The Universal Pictures chairman became only the third woman to collect the Will Rogers Pioneer Of The Year award at a ceremony in Las Vegas on Wednesday night.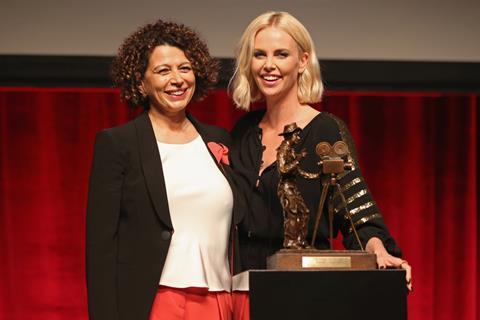 Langley told attendees at the Caesars Palace event, "It really is such a great honour to be here tonight. It's an extraordinary event. I'm deeply touched by this honour."
The studio head presided over last year's extraordinary box office haul of $6.88bn worldwide, comprising $4.44bn internationally and the $2.44bn in North America. All three results set new industry records.
Charlize Theron, who stars in the studio's The Huntsman: Winter's War, introduced Langley to the stage at the Octavius Ballroom in uncompromising fashion.
"Donna has a storied 15-year run with Universal – fuck yeah!" said Theron. "She's a sheep in wolf's clothing, an artist in a suit."
The gala dinner raised close to $1.6m for the Pioneers Assistance Fund, a record for CinemaCon.