The partners on National Board Of Review best film of 2016 winner Manchester By The Sea are uniting on a theatrical release of Doug Liman's psychological thriller.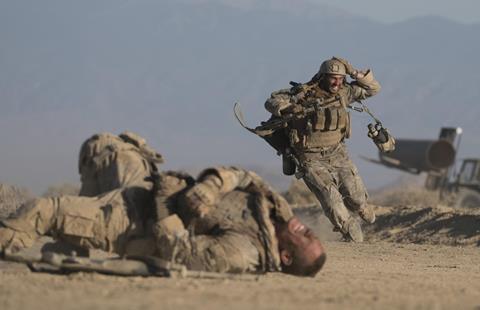 Aaron Taylor-Johnson and John Cena star in The Wall, which Roadside will release theatrically on March 10. FilmNation handles international sales.
The story follows two soldiers pinned down by an Iraqi sniper. First-timer Dwain Worrell wrote the screenplay and Amazon Studios produced the feature with Big Indie Pictures and Picrow.
Lionsgate and Chinese platform iQIYI have signed a long-term SVOD, TVOD and AVOD (advertising video on demand) output deal for a roster of commercial feature and prestige library titles. iQIYI, which reportedly commands a user base of more than half a billion people, gets exclusive streaming rights to titles under the arrangement such as Patriots Day and the upcoming Robin Hood.
Bradley Cooper is attached to star in Black List script Atlantic Wall for Gavin O'Connor to direct. Imperative Entertainment partners Dan Friedkin and Bradley Thomas will finance and produce and are in talks with Warner Bros on the story of a US paratrooper stranded behind enemy lines in the run-up to D-Day. Imperative plan to shoot the film in Normandy, France.
Quebec-based motion systems specialist D-Box has hired Bob Raposo as vice-president Americas and EMEA marketsfor the theatrical sales division. Raposo arrives from IMAX, where he served six years as president for theater development and sales in the Americas.
Brainstorm Media has secured US rights from The Exchange and Patriot Pictures to James Franco starrer I Am Michael and will release theatrically and on VOD on January 27.
Fences star and director Denzel Washington will receive the Maltin Modern Master Award at the 32nd annual Santa Barbara International Film Festival on February 2.