The producer of Dear White People (pictured) and In The Cut delivered words of encouragement in her keynote address at the Film Independent Forum in Los Angeles at the weekend.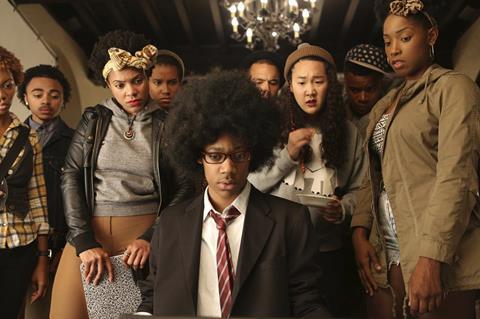 "I thought there was something wrong with me and I was having such a hard time making it," said Brown on Sunday as she reflected on early efforts to break into the business. "I thought, 'Am I a fraud?' And then the big one – 'Do I deserve this?' That mental mind-fuck is exhausting. It kept me 'apart from', instead of 'a part of.'"

Earlier in her address, Brown told attendees at the DGA Theater, "You have a story to tell that's worthy. You have experience to share. You have a valid point of view and you should know this."
The Forum opened on Friday with a screening of Loving followed by an on-stage discussion with director Jeff Nichols and leads Ruth Negga and Joel Edgerton. Mr. Robot creator Sam Esmail delivered a keynote on Saturday.
monterey media has picked up all US and Canadian rights from Cinetic Media to Maggie Greenwald's Sophie And The Rising Sun starring Julianne Nicholson, Margo Martindale, Lorraine Toussaint, Takashi Yamaguchi and Diane Ladd. The drama premiered at Sundance in January and takes place in 1941 as interracial lovers battle xenophobia in the US following the attack on Pearl Harbor. It will open theatrically in early 2017.
eOne has licensed rights to Studio AKA's Lost And Found based on Oliver Jeffers' celebrated children's book about the friendship between a young boy and a penguin. Sprout, NBCUniversal Cable Entertainment's US preschool network, will launch the 30-minute animation on December 3.
Roland Rojas has launched online marketplace BidSlate and will attend the AFM to meet potential clients. One of the service's first projects is Maria starring Mexican multihyphenate Fernando Allende in a remake of one of Allende's first major roles in 1972 opposite Taryn Power.
Fairway Film Alliance will launch sales at the AFM on Chip Rossetti's Saving Faith and will screen the film starring Jenn Gotzon, Donny Richmond, Henry Cho and Jim Chandler during the market.