Plus: Tribeca Interactive roster unveiled; IFP Film Week moves to Brooklyn; Cinema Libre to distribute Vaxxed; and more…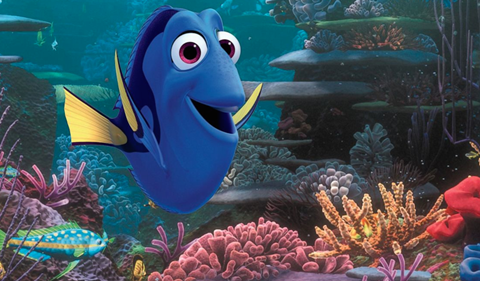 Disney/Pixar have announced that Idris Elba, Bill Hader and Diane Keaton are among the voice cast on Finding Dory, which is scheduled to open on June 17.
Ellen DeGeneres returns as Dory, Albert Brooks plays Marlin, and Hayden Rolence Nemo, while Keaton and Eugene Levy play Dory's parents,
Elba and Dominic West portray sea lions Fluke and Rudder, Stanton and Bennett Dammann are the turtles Crush and his son Squirt, and Hader and Kate McKinnon play a fish couple whom Dory meets on her adventure.
Bob Peterson is the reef teacher Mr. Ray, Torbin Bullock plays Becky, Ed O'Neill is the octopus Hank, Kaitlin Olson plays whale shark Destiny, and Ty Burrell is beluga whale Bailey.
IFP Film Week is moving to Brooklyn after 37 years in Manhattan. The event will set up shop in DUMBO anchored in its headquarters, the Made in NY Media Center By IFP. The event originated in 1979 as the Independent Feature Film Market and has evolved into an annual international co-production market for film, TV, web content and VR. This year's iteration runs from September 17-22.
Cinema Libre Studio will distribute the controversial documentary Vaxxed: From Cover-Up to Catastrophe, which was pulled from the upcoming Tribeca Film Festival at the weekend after it was reported that the medical community had discredited claims by director Andrew Wakefield of a causal link between the MMR vaccine and autism. Cinema Libre acquired rights from the Autism Media Channel.
Fullscreen, majority-owned by AT&T and The Chernin Group's Otter Media, announced plans on Wednesday for an ad-free SVOD service and what it claims will be the world's first video membership experience programmed for the social-first generation. fullscreen launches on April 26 across multiple devices for $4.99 per month and will programme features, scripted and unscripted acquisitions and originals, and exclusive content from creators and social influencers.
Tribeca Film Institute on Wednesday announced the line-up for TFI Interactive, an all-day immersive event on April 16 supported by Time Warner Foundation. The day-long programme gathers innovators from media, art, gaming, technology, maker culture, and activism. Participants include at IBM Interactive Experience global chief creative officer Joanna Peña-Bickley, futurist designer Kristin Neidlinger, and the BB-8 droid. For further details click here.
Imogen Poots will star in Mobile Homes for producers Mike MacMillan, founder of Lithium Studios Productions, Fréderic de Goldschmidt, owner of Madeleine Films and Eric Dupont, founder of Incognito Films. The Canada-France co-production is currently shooting in and around Niagara Falls. Vladimir de Fontenay directs the story of a drifter mother who gets the chance to reassess her life.
Bad Moms stars Mila Kunis, Kristen Bell, Christina Applegate and Annie Mumolo will receive the CinemaCon Female Stars Of The Year Award on April 14. The exhibitors convention runs in Las Vegas from April 11-14. STX Entertainment is set to release the comedy on July 29.
John Dahl is attached to direct Will Gardner, a drama about an Iraq War veteran who takes a motorbike trip across the States. US-based You Did It! Productions has teamed up with Mona Vista Productions to produce. Max Martini and Michael Hagerty of Mona Vista will join Lee Ettinger, Devin Cutler, and Stewart Hall of YDIP as producers, with Tony Mark. Dante Spinotti is attached as cinematographer. Mary Vernieu serves as casting agent and executive producer.