Plus: Monkey King: Hero Is Back finds US home; AFI DOCS 2016 slate announced; and more…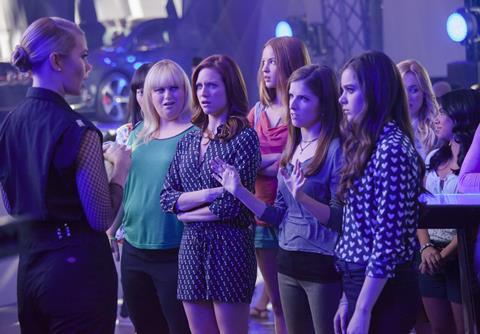 Universal Pictures will release Pitch Perfect 3 on July 21, 2017. The comedy was originally set for August 4 of that year and will once again star Anna Kendrick and Rebel Wilson.
Elizabeth Banks returns to direct the threequel after her 2015 Pitch Perfect 2 (pictured) grossed $288m worldwide. Paul Brooks of Gold Circle Entertainment and Max Handelman and Banks of Brownstone Productions are the producers.
Viva Pictures and DIRECTV have acquired US rights to the animated feature, Monkey King: Hero Is Back. Jackie Chan voices the lead character. The film grossed $177m in China and will debut exclusively on DIRECTV CINEMA on May 26 followed by a theatrical release through VIVA Pictures in late July.
The American Film Institute on Monday announced the slate of films for AFI DOCS 2016, running from June 22–26 in Washington, DC, and Silver Spring. As previously announced, Alex Gibney's Zero Days will open the 14th edition. New titles include Robert Kenner's Command And Control and Barbara Kopple's Miss Sharon Jones!
Clive Owen will star in Fred Schepisi's romantic thriller Andorra for Jump Street Films. Jamie Bialkower produces for Jump Street and Lizzette Atkins for Unicorn Films. James Ivory serves as executive producer.
Oscilloscope Laboratories has picked up US rights to Rosemary Myers' debut feature, Girl Asleep. The film premiered at the Adelaide Film Festival before playing in Berlin's Generation 14plus and will receive its North American premiere at the Seattle International Film Festival prior to US release.
MGM has appointed Lesley Freeman as chief legal officer. Freeman recently served as senior vice—president of legal affairs at HBO.
Hot Docs has wrapped its 23rd edition in Toronto with what oganisers claimed were record-breaking audiences pegged at an estimated 211,000. The top two selections as determined by the audience were Angry Inuk by Alethea Arnaquq-Baril (Canada) and The Apology (China) by Tiffany Hsiung.