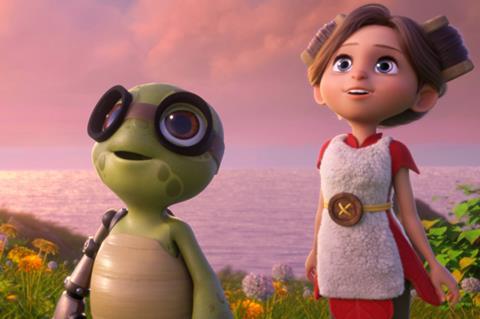 US-China animation studio Gold Valley Films (GVF) is to showcase upcoming feature Little Emma at the EFM.
The first 50 minutes of the animation will be screened to buyers at the market in Berlin this week ahead of a planned delivery in Q2 this year. The film is directed by Leo Lewis and Isabella Blanco from a script by Sean Lamb.
The voice cast is led by Natalie Grace (T-Rex Ranch) as Emma, a miniature girl adopted by animal parents who yearns to learn the truth about her past. She meets characters including a genius turtle and scientist wolf along the way, and discovers an island of tiny humans where not all is as it seems. Further cast includes Broadway singer Travis Cloer, Bar Topaz, Niko Gerentes and Amy Margolis.
Co-producers are LA-based Neko Productions and India's Toonz Media Group. GVF head of international Allen Tsang is a producer on the project and Ariel Veneziano is a consultant on the project.
The film was recently awarded the MPA Asia-Pacific Cooperation Special Award for best work-in-progress at the Beijing International Film Festival (BJIFF).
GVF, which is based in Los Angeles and has a production house in China, has an EFM slate that also includes upcoming animated features Nils: The New Adventure, based on 1906 novel The Wonderful Adventures Of Nils by Selma Lagerlöf, and Wojtek The Bear.
Little Emma marks their eighth animated feature to date, which includes Ella And The Little Sorcerer, acquired by Vertical Entertainment for the US; Cinderella And The Secret Prince; Academy Of Magic; and Mulan: The Princess Warrior.