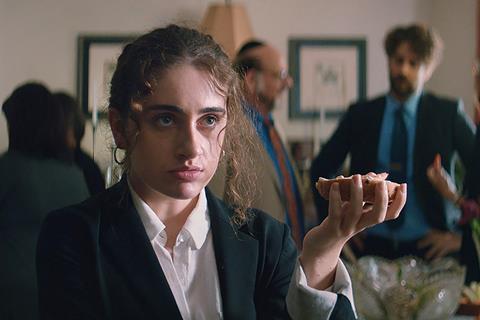 Robert Schwartzman's US sales and distribution company Utopia has announced a raft of deals at EFM including 2020 SXSW, Toronto, and Outfest selection Shiva Baby.
Emma Seligman's comedy has gone to HBO for the US, Pacific Northwest Pictures for Canada, Filmin for Spain, and Watcha for South Korea. As previously announced, Mubi has acquired the film for the UK, Germany, Latin America, India, and Turkey.
Rachel Sennott, Fred Melamed, Polly Draper, and Dianna Agron lead an ensemble cast in the story of secrets that erupt at a Jewish funeral.
In other sales, HBO has acquired the US, MGM has acquired Latin America, Front Row the Middle East and North Africa, Sky the UK, and Vortex has taken Canadian rights on Maureen Bharoocha's female arm wrestling drama and 2020 SXSW selection Golden Arm.
Eric Schultz's sci-fi thriller and Fantasia Film Festival and Sitges selection Minor Premise has gone to Sky for the UK and MGM for Latin America.
The EFM slate includes Moments Like This Never Last, Cheryl Dunn 's documentary about the artist Dash Snow from Vice Studios and All Day Everyday, drag queen D'Arcy Drollinger's comedy Shit & Champagne, David Gutnik's 2020 Raindance psycho-drama Materna, DOC NYC selection Dilemma Of Desire, and upcoming documentary Jerry's Last Mission produced by Ed Cunningham, whose 2011 documentary Undefeated won the Oscar.