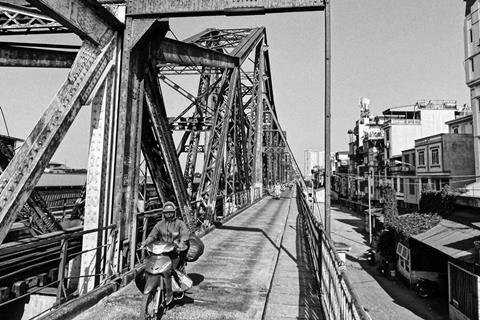 An ambitious documentary about Vietnam, produced remotely from the UK, has become one of the first recipients of the British Council's new Digital Collaboration Fund.
Dust & Metal will combine rare archive film with newly-shot footage to tell past and present stories from Vietnam, and has received a £50,000 grant from the British Council after production was halted when the pandemic struck.
The documentary is directed by Esther Johnson, her second feature after 2016's Asunder, and marks the first feature-length project to be produced by Live Cinema UK. Lisa Brook, founder of the event cinema firm, is producer.
Initial production took place in Vietnam in November 2019 but a second trip, planned for April 2020, was cancelled due to the virus crisis. The 'restart grant' awarded by the British Council represents more than half the total budget of the documentary and will be used to licence archive footage from the Vietnam Film Institute and fund a local producer to digitise the material for the first time.
It will also cover Live Cinema UK's partnership with Vietnamese organisation TPD, which will handle pick-up shots with a local crew this Spring, produced remotely from the UK as the filmmakers are unable to travel due to ongoing Covid-19 restrictions.
The edit and post-production will take place in the UK but the score will be composed by Vietnamese artist Xo Xinh, while Hanoi-based Nhung Nguyen will construct the sound design. Live Cinema UK plan to have these elements performed live during the film's initial festival run, billed as a 'cine-concert'.
The filmmakers are aiming to complete the project this autumn ahead of a festival run from late 2021 and wider release in 2022.
Digital Collaboration Fund
Dust & Metal is one of the first to benefit from the British Council's pilot fund aimed at supporting innovative, international collaborations, which has awarded grants of up to £50,000 to UK-based arts organisations spanning music, theatre, film, visual art and literature.
The launch of the fund is also a response to increased travel restrictions due to the global pandemic and the need for more sustainable, climate-friendly approaches to working internationally across the arts.
Other film projects supported by the initiative include a planned collaboration between the Cardiff Animation Festival and Cape Town International Animation Festival; and animated series Lost Migrations, produced by the UK's Project Dastaan and Pakistan's Puffball Studios, which will tell stories of the Partition through the voices of the colonised and those traditionally under-represented in South Asian storytelling.
A research and development grant has also been awarded to Masahat, a project led by the UK's Doc Society and Lebanon's Beirut DC, an organisation that works to promote independent Arab cinema. Masahat (Arabic for 'spaces') is a proposed virtual platform that will connect independent, community-led physical spaces with independent film practitioners to reach people across the region.