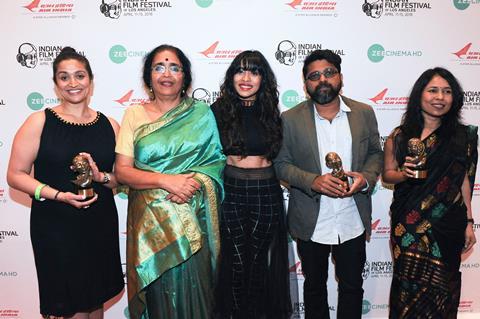 Village Rockstars won the grand jury prize for best feature at the 2018 Indian Film Festival Of Los Angeles (IFFLA) at the weekend.
The festival would up with the Los Angeles premiere of Rima Das' Village Rockstars, which recently won four top awards including best feature at the National Film Awards in India.
Sushama Deshpande's performance in Ajji earned a special jury mention. The grand jury prize for best short went to The Caregiver by Ruthy Pribar. Counterfeit Kunkoo earned a special jury mention.
The audience narrative feature award went to Mahesh Narayanan's Take Off, while Lovesick by Priya Giri Desai and Ann S. Kim took the documentary prize, and An Essay Of The Rain by Nagraj Manjule was named best short.
The 16th annual IFFLA ran from April 11-15 and presented four world premieres, three North American premieres, two US premieres, and 14 Los Angeles premieres. The line-up represented 12 languages and 11 films by female filmmakers, and opened with Manoj Bajpayee's In The Shadows.
Click here for the further details.