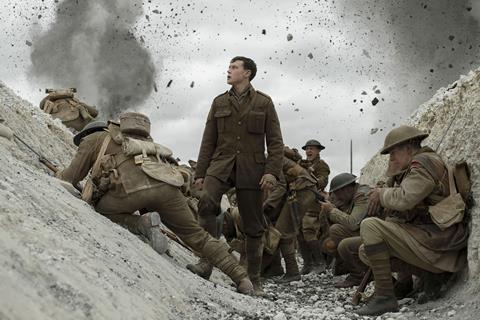 UK cinema admissions fell to a record low in the first three months of 2020, according to BFI official statistics published today, as cinemas closed nationwide due to the Covid-19 pandemic.
Audiences had already begun to stay away from cinemas in the week leading up to March 20, when all venues were ordered to close their doors as the country went into lockdown.
But with all major exhibitors having already shuttered their businesses in the days prior, a total of 4.81 million cinema admissions were recorded in March – down 58% on the 11.43 million admissions in March 2019.
This impacted the overall total for the first three months of the year, when 35.86 million cinema tickets were sold in the UK – the lowest first quarter figures since the BFI's analysis began in 2002. It marked a 4% dip on Q1 2019 and a more significant 27.8% drop on Q1 2018, when 45.84 million admissions were recorded.
This was reflected at the box office, which grossed £271.9m in Q1 2020, down from £290.2m in 2019 and £368.2m in 2018.
The year had started strongly, with admissions in January and February around 20% higher than in 2019, totalling 16.5 million and 14.5 million respectively. This was due to titles including Little Women, Star Wars: The Rise Of Skywalker and Jumanji: The Next Level, which were released at the end of 2019 but continued to perform at the start of the year.
January saw the release of First World War drama 1917, which proved the quarter's highest-grossing film with takings of £44m. Moving into February, other strong performers included Sonic The Hedgehog, Dolittle and best picture Oscar winner Parasite.
A total of 187 titles were scheduled for release in the first three months of 2020, slightly up from 182 in 2019. But the closure of cinemas meant that only 162 made it on to screens, with 25 films missing release.
Films including Emma and The Invisible Man ranked among the top 10 titles released in Q1 but had their theatrical run cut short and were given early digital releases by Universal. Other titles to migrate to digital platforms earlier than expected included Paramount's Sonic The Hedgehog and Warner Bros' Birds Of Prey And The Fantabulous Emancipation Of One Harley Quinn.
Total revenue for the top 10 films released in the first three months of the year was £149.8m, a drop of £19.6m and 11.5% on the takings of the top 10 titles released in Q1 2019.
Top 10 films released in the UK/ROI (Q1 2020)
| | | |
| --- | --- | --- |
| Film | Box office gross | Distributor |
| 1917 | £43.8m | eOne |
| Sonic The Hedgehog | £19m | Paramount |
| Bad Boys For Life | £16.1m | Sony |
| Dolittle | £15.9m | Universal |
| The Gentlemen | £12.1m | Entertainment |
| Parasite | £12m | Curzon |
| Birds Of Prey… | £8.8m | Warner Bros. |
| Jojo Rabbit | £8.1m | Disney |
| Emma | £7.4m | Universal |
| The Invisible Man | £6.7m | Universal |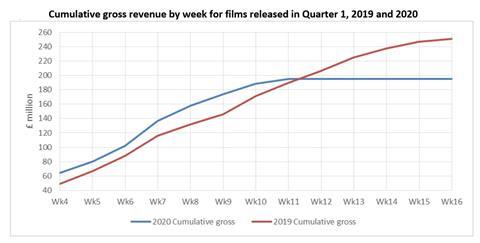 Revenue for top UK indie films down 50%
Action-comedy The Gentlemen, released by Entertainment Film Distributors, proved the highest-grossing UK independent release in the first quarter of 2020, grossing £12.05m after 11 weeks.
However, the market share of UK indie films was 15% over the period, down from 25% in 2019, and the revenue of the top 10 titles was £29m – a substantial drop from £60m in 2019.
Last year's strong performance was driven by Oscar-winner The Favourite, which took £17m, as well as the rest of the top 10 films, which generated more than £1m each.
Two of this year's strongest UK titles – Lionsgate's Military Wives and Disney's Misbehaviour – had not long been released before cinemas closed, while audiences were already beginning to stay away from crowds.
Independent films including Marie Curie biopic Radioactive were postponed ahead of release.
While the first quarter figures are down, the numbers comprising April to June are likely to be devastating due to the closures and will struggle to come close to the Q2 2019 admissions of 46.43 million or box office grosses for the period of £328.3m.
Prime Minister Boris Johnson is expected to announce an easing of lockdown measures this Sunday and an industry group led by the UK Cinema Association and Film Distributors Association has been speaking with government to ensure theatres are ready to re-open as soon as late June.
Top 10 independent UK films released in Q1 2020
| | | |
| --- | --- | --- |
| Film | Box office gross | Distributor |
| The Gentlemen | £12.05m | Entertainment |
| Emma | £7.44m | Universal |
| The Personal History Of David Copperfield | £6.37m | Lionsgate |
| Military Wives | £2.47m | Lionsgate |
| Misbehaviour | £420,000 | Disney |
| The Rhythm Section | £350,000 | Paramount |
| Mr. Jones | £130,000 | Signature |
| Jawaani Jaaneman | £100,000 | Hamsini |
| Little Joe | £70,000 | BFI |
| Calm With Horses | £60,000 | Altitude/Element |