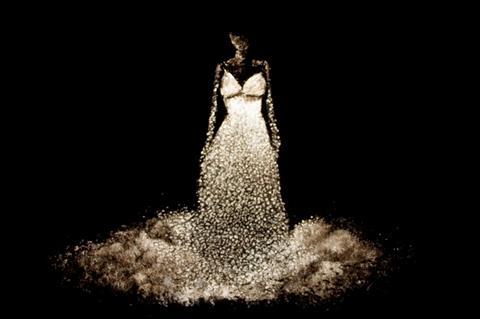 Upcoming documentary The Vanishing by Senegalese filmmaker Rama Thiaw received one of the top prizes at Visions du Réel's industry awards last night (April 20), hosted virtually from the Swiss town of Nyon.
The online ceremony saw 17 prizes awarded to documentary projects from the US, Asia, Africa and Europe, which had been presented to buyers and potential partners during the industry event.
Scroll down for full list of winners
The Vanishing won the Visions Sud Est Award, which includes a cash prize of 10,000CHF ($11,000) and is given to the best project from Africa, Latin America, Asia or Eastern Europe (excluding EU members).
It marks the second feature by Thiaw, who won the Fipresci prize at the 2016 Berlinale with The Revolution Won't Be Televised, and combines animation, archive and live action to recount the flamboyant life of the director's mother, who went missing in 2012.
The Senegal-France co-production took part in VdR-Pitching, the platform's co-production and financing forum that handed out further prizes.
The VdR-Pitching Award for most promising project, worth 5,000CHF ($5,500), went to Science Fiction by Argentinian filmmaker Ezequiel Yanco while the Party Film Sales Award went to King Coal by US filmmaker Elaine McMillion Sheldon. The upcoming feature by Sheldon, who was Oscar-nominated in 2018 with Netflix short Heroin(e), explores how coal is imbued in the identity of people in North America's Appalachians.
The VdR-Work in Progress section saw a further two new cash prizes awarded. The VdR-Work in Progress Award, worth 3,000CHF ($3,300), went to Transfariana by France's Joris Lachaise, which explores what happens when a leader in Colombia's FARC rebel group marries a trans woman in prison.
The Lightdox Award, which bestows 3,000CHF on the project with the "highest international potential", went to Blue Island by Hong Kong filmmaker Tze Woon Chan. The hybrid documentary centres on three people who look back on riots, revolution and protests in Hong Kong, which chimes with the recent unrest in the region.
The only title to receive two awards was Yoga Village by China's Rongfei Guo, in which a former actor travels to a poor village and transforms it into a yoga tourist spot. It received the HEAD-Geneva Post-Production Award and the RTS Award, of which the latter includes a pre-buy of TV rights by Switzerland's French-language public broadcaster.
In total, 29 projects participated across the VdR-Pitching, VdR-Work in Progress and VdR-Rough Cut Lab and were presented both online and physically in Nyon.
Visions de Réel industry prizes 2021
Visions Sud Est award
The Vanishing (Sen-Fr)
Dir: Rama Thiaw
Pros: Hortense Maunoury (Boul Fallé Images), Jean-Laurent Csinidis (Films de Force Majeure)
VdR–Pitching
VdR–Pitching award
Science Fiction (Arg)
Dir: Ezequiel Yanco
Pros: Ana Godoy, Ezequiel Yanco (Isoi Cine)
The Party Film Sales award
King Coal (US)
Dir: Elaine McMillion Sheldon
Pro: Shane Boris (Cottage M)
RTS award
Yoga Village (China)
Dir: Rongfei Guo
Pro: Wenxin Zhong (Shanghai Jiemian CLS Technologies)
HEAD–Genève Postproduction award
Yoga Village (China)
Dir: Rongfei Guo
Pro: Wenxin Zhong (Shanghai Jiemian CLS Technologies)
Cannes Docs award
The Last Year Of Darkness (China-US)
Dir: Ben Mullinkosson
Pro: Sol Ye (Mutual Friends Films)
Thessaloniki Documentary Festival award
But Dear Lord Why? (Geo)
Dir: Rati Tsiteladze
Pros: Nino Varsimashvili, Olga Slusareva (ArtWay Film)
DOK Leipzig/DOK Industry networking award
Malqueridas (Chile)
Dir: Tana Gilbert
Pro: Paola Castillo (Errante)
VdR–Work in Progress
VdR–Work in Progress award
Transfariana (Fr-Col)
Dir: Joris Lachaise
Pro: Line Peyron (Mujo)
Lightdox award
Blue Island (HK-Jap)
Dir: Tze Woon Chan
Pro: Catherine Chan, Peter Yam (Blue Island Production Company Limited)
Raggioverde Subtitling award
Another Spring (Ser)
Dir: Mladen Kovačević
Pro: Iva Plemić Divjak (Horopter Film Production)
EFM Award
About Everything There Is To Know (Peru)
Dir: Sofía Velázquez
Pro: Carolina Denegri (Cultural Mercado Central)
DAE Encouragement award
The Home (S Afr-US)
Dirs/pros: Jessie Zinn, Chase Musslewhite (Red Coat Films)
Freestudios award
We, Students! (Central African Republic-Fr-DR Congo)
Dir: Rafiki Fariala
Pro: Daniele Incalcaterra (Makongo Films)
Opening Scenes awards
IDFA Spotlight Award
Don't Hesitate To Come For A Visit, Mom (Bel-Hun-Port-Rus)
Dir: Anna Artemyeva
TËNK award
Seeking Aline (Switz-Sen)
Dir: Rokhaya Marieme Blade
META Cultural Foundation award
Not Over Yet (Bra)
Dir: Monise Nicodemos