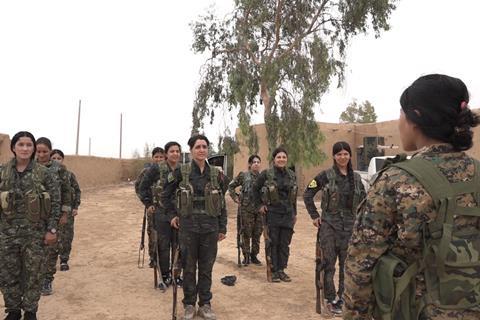 Visit Films has boarded worldwide sales rights to Iranian filmmaker Negin Ahmadi's documentary Dreams' Gate ahead of its world premiere in Berlin Generation 14plus.
Ahmadi travels to the war zone of northern Syria to follow the lives of the women in the YPJ, an all-female Kurdish militia for whom fighting ISIS is a way to escape the restraints of a patriarchal society.
Dreams' Gate (Darvazeye Royaha) weaves together candid moments between the female soldiers with the brutality of combat and offers a visual diary that examines the role of women in battle and the cost of achieving equality and freedom in the region.
The Iran-France-Norway co-production is produced by Eli Image, Ava Studios Paris, Spætt Film AS, and Babel Doc. Elaheh Nobakht served producer and her credits include The Apple Day, Silent House, Beloved, and Destiny. She also distributed Iran's 2020 Oscar submission Finding Farideh.
Ahmadi said, "During the journey to make this film, I was searching for my lost identity, power and the meaning of femininity. I had heard that Kurdish female fighters are the symbols of power and freedom in their society. Now, four years have passed and I can say with confidence that the truth is much more complicated. I am so happy that, working together with Visit Films, we can share the story of these women and their dreams with audiences around the world."
Visit President Ryan Kampe added, "This is one of the most real and raw accounts of women in war that has ever been made. Ahmadi has put herself in the path of direct harm in order to shed light on this incredible group of women and the sacrifices that they make in a region where women are often hidden in the shadows."
Visit's most recent sales titles include Sundance selections Aliens Abducted My Parents And Now I Feel Kinda Left Out and The Fishbowl, Slamdance award-winner Starring Jerry As Himself, and TIFF titles I Like Movies, Soft, and We Are Still Here.