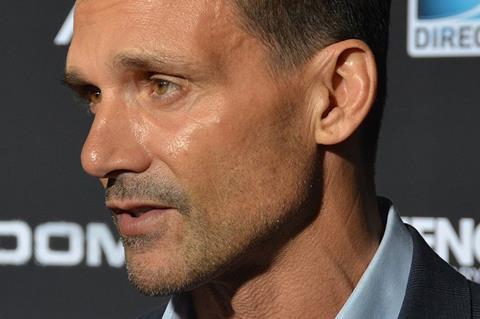 Voltage Pictures has added another sales title to its virtual Cannes sales slate, boarding international sales on the upcoming Frank Grillo thriller No Man's Land.
The Margate House production shot in Guanajuato, Mexico, and centres on father-and-son Texas ranchers whose lives are plunged into chaos when the younger man accidentally kills a Mexican immigrant's 10-year-old son while on vigilante patrol.
The man flees into Mexico chased by US and Mexican authorities and tries to seek forgiveness from the boy's father.
CAA Media Finance and XYZ Films are handling US rights.
Jake Allyn Jorge A. Jimenez, George Lopez, and Andie MacDowell also star. Allyn's brother Conor Allyn directed from a screenplay by Jake Allyn and David Barraza Ibanez.
Rob Allyn and his sons Conor Allyn and Jake Allyn are producing through their Margate House Films in partnership with Bluegrass Pictures and the state of Guanajuato. Executive producers include Araceli Velazquez (Desierto), Barraza, Grillo and Simon Fawcett (Guardia-Garcia). Victor Almeida and Joel Shapiro also produce.
"In this highly polarised landscape, my brother and I wanted to shatter the myths and misconceptions about immigration and the U.S./Mexico border through a thrilling journey where audiences can walk in the shoes of others," said Conor Allyn. "We chose to focus No Man's Land on a personal, human story with heart and hope to create a gripping yet entertaining film that audiences will love."
"Finding and nurturing gifted filmmakers like Conor, Rob and Jake is a good business to be in, so we're thrilled to be back on board with them and the Margate House Films team," said Voltage president and COO Jonathan Deckter.
"It's been great to watch them progress as filmmakers and attract the calibre of talent we see here in No Man's Land. It's clear evidence that others are taking note of their exceptional work too."
The Voltage sales slate includes thriller Deadly Illusions starring Kristin Davis and Dermot Mulroney, which Deckter has described as a throwback to Basic Instinct.