Experts forecasted the future of the consumer virtual-reality market at the annual event held as part of LFF.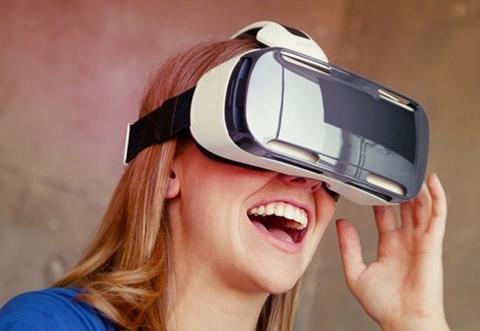 The virtual reality content market is set to explode in scope and volume in the coming year, a panel of VR pioneers told Power to the Pixel's conference yesterday (Oct 14).
Alex Bowker, developer relations lead at Samsung Electronics, said the VR content market was projected to be worth $8.4bn by 2018 while headset sales were expected to bring in an annual $2.4bn.
"The content grows to be worth two to three times the hardware sales," said Bowker.
"At the moment it's all about immersive experiences that you just can't have but we're also seeing lots of games, training and educational tools and cinematic works, like Felix and Paul's Cirque du Soleil, as well as concerts and sporting events – it opens up a lot of experiences."
Samsung is currently preparing for the launch of its competitively priced Gear VR headset in November, to be followed early next year by the long-awaited Oculus Rift.
Game-changer
Their arrival on the consumer market is being heralded as a game-changer for the burgeoning VR scene. There has already been a proliferation in VR content over the last 12 months.
Pioneering VR company Oculus - which was acquired by Facebook in 2014 - has been at the forefront of supporting VR content, even setting up the in-house Oculus Story Studio, aimed at exploring narrative VR.
Story Studio co-founder and creative director Saschka Unseld explained how the studio's debut VR work Lost had been carefully designed to break novice VR spectators into the new format gently, kicking off with an image of a firefly to slowly draw the viewer into the larger scene of a dark forest.
Since then, the studio has also unveiled child-friendly animation Henry and is working on a number of other projects including Bullfighter.
For now, the studio's works have run to around 10 minutes. Unseld said this was a reflection of the fact that the studio was still learning rather than audience preferences.
"To create a 10-minute experience it takes us six to seven months," he said. "If we were to spend longer we probably would have learned so many new things in the process that the temptation would be to scrap the whole thing and go back to the beginning.
"10 minutes is just about long enough to have a proper narrative and short enough not to throw it out the window and start again,
"The most common reaction of people who watch Lost or Henry is that they would have liked to stay in there longer. Ultimately the length and format will get defined by the medium being out there. It's what happened in TV."
Longer VR sessions
David Ranyard, director of Sony's London Studio, said he envisaged VR gaming sessions eventually extending to as long as 45 minutes.
His team have worked on recent VR pilots The Deep, The London Heist and The Getaway as well as Sony's Project Morpheus VR headset.
He dismissed suggestions that spectators could not cope with longer VR sessions.
"When they invented the train, it was claimed that the human body could not go faster than 25 miles per hour but it does. We got used it," said Ranyard.
"I think people will get used to VR and I agree with Saschka that once it gets out there – the format will naturally evolve. I think it will be different for narrative stories over interactive games.
"If you're playing a multiplayer tank game with your friends you'll probably want to be in there for longer. We need to get it out there to find out.
"I do think that production values are important. With VR you can be made to feel uncomfortable. But we're learning all the time. The learning curve has been exponential.
"The first six months, we learned a few basic things and now we're becoming more sophisticated."
VR focus
The panel was part of a larger focus on VR by Power to the Pixel this year.
In a separate talk, United Nations senior advisor and filmmaker Gabo Arora talked about his collaboration with music video director and VR pioneer Chris Milk on the award-winning short documentary Clouds Over Sidra,capturing the life of a 12-year-old Syrian girl growing up in a refugee camp in Jordan.
Vrse.works – the virtual reality production house co-founded by Milk with film, theatre, commercials and music video producer Patrick Milling Smith in 2014 – kitted out Arora and co-director and producer Barry Pousman with an in-house camera and the pair headed off to the Za'atari camp in Jordan.
The resulting work was shown to 120 delegates at the Davos World Economic Forum earlier this year and also screened at a number of film and documentary festivals including Sundance and the Sheffield Doc/Fest where it won the Interactive Award.
Widening its distribution, UNICEF dubbed the work into 15 languages and gave headsets loaded with the film to street teams of fundraisers.
According to UNICEF figures, one in six people donated on the street after watching the film, double the average.
Since Clouds Over Sidra, Arora has also made Waves of Grace, about a Liberian Ebola survivor who uses her immunity to care for orphaned children, and also has new works set in China, India and Nepal in the works.
Both Clouds Over Sidra and Waves of Grace are currently on display at Virtual Stories, a free public exhibition at the BFI IMAX, showcasing some of the most exciting VR content around.
Organised by Power to the Pixel in partnership with the 59th BFI London Film Festival, it runs until 18 October.