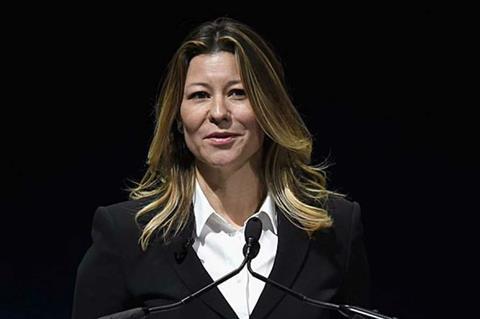 Veronika Kwan Vandenberg, Warner Bros Pictures president of international distribution and growth initiatives, is to leave the studio by the end of this year after an almost 30-year stint.
Tom Molter, currently executive vice president of international distribution, will now head Warner's international distribution operation, reporting to Ron Sanders, president of worldwide theatrical distribution and home entertainment.
Kwan Vandenberg will serve as special advisor Sanders until she leaves Warner. Her departure follows the exit earlier this year of the studio's president of worldwide marketing and distribution Sue Kroll.
Having joined Warner in 1990, Kwan Vandenberg previously served as president of worldwide distribution and, for 15 years, as president of international distribution. She was involved in managing series including the Harry Potter films, Christopher Nolan's The Dark Knight trilogy, Peter Jackson's The Hobbit trilogy, The Matrix trilogy and the DC superhero universe.
In her most recent job, she had oversight of the studio's international theatrical distribution activities, including local productions and a special focus on theatrical strategy in China.
Kwan Vandenberg's departure is part of an executive reshuffle in Warner's feature and home entertainment distribution division that also sees Jim Wuthrich being named president of Warner Bros Worldwide Home Entertainment and Games.
In addition, Jim Gewert will now serve as executive vice president of worldwide finance and operations for Warner Bros Home Entertainment and Theatrical Marketing and Distribution and David Brander, executive vice president of worldwide marketing and international distribution operations, will be retiring. Brander will be moving back to the UK after 36 years with the studio.
In a statement on Kwan Vandenberg's departure, Warner Bros Pictures Group chairman Toby Emmerich said: "Veronika has led our international film distribution division since 2000, and Warner Bros could not have had a better representative in the global marketplace. She's highly regarded, well-liked and recognised as a great partner by filmmakers, exhibitors and her peers. Her deep knowledge of the business, the international markets and her longstanding relationships have helped us achieve great results."
Kwan Vandenberg said: "Warner Bros has been my second home and family for almost 30 years. I've had the great fortune to work with so many talented, creative and visionary people and I shall miss them all. I'm so proud of everything we've accomplished over the years and I'm particularly proud of the great team we have in place. I want to thank Toby and Kevin [Tsujihara, Warner Bros Entertainment chairman and CEO] for their support, and I look forward to working with Ron."