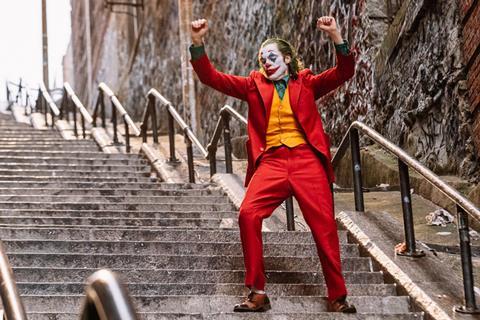 Warner Bros on Tuesday (24) responded to parents of victims in the 2012 Aurora cinema shootings in the US who have expressed concern over the upcoming release of Joker.
Todd Phillips' Venice Golden Lion-winning film starring Oscar contender Joaquin Phoenix earned acclaim after it premiered on the Lido. Yet the origins story of one the most notorious supervillains in comic book lore – frequently portrayed on screen – has also drawn attention for scenes depicting gun violence.
Ahead of the film's US release on October 4, five parents of victims wrote to the studio asking Warner Bros to donate to groups working with victims of gun violence. They did not call for a ban.
It is understood Joker will not screen at Cinemark's renamed Century Aurora and XD multiplex in Colorado, which became a site of global infamy on July 20, 2012 when gun-wielding James Holmes massacred 12 people and wounded dozens more at a screening of Warner Bros' Batman film The Dark Knight Rises.
In a statement issued on Tuesday Warner Bros said, "Gun violence in our society is a critical issue, and we extend our deepest sympathy to all victims and families impacted by these tragedies. Our company has a long history of donating to victims of violence, including Aurora, and in recent weeks, our parent company joined other business leaders to call on policymakers to enact bi-partisan legislation to address this epidemic.
"At the same time, Warner Bros. believes that one of the functions of storytelling is to provoke difficult conversations around complex issues. Make no mistake: neither the fictional character Joker, nor the film, is an endorsement of real-world violence of any kind. It is not the intention of the film, the filmmakers or the studio to hold this character up as a hero."