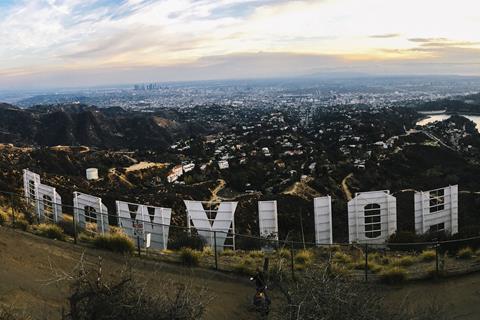 Original content for WarnerMedia's upcoming streaming service will include specially produced films as well as series, Kevin Reilly, chief content officer of the company's direct-to-consumer (DTC) division, has revealed.
And the name and other details of the service will be announced "over the next couple of weeks," Reilly said in a video presentation to international television buyers attending Warner's sessions at this week's Los Angeles Screenings event.
The service is set for its beta launch in the US in the fourth quarter of 2019, though Reilly has previously said that original content will not start appearing until next year, when the service gets its official domestic launch. The service will have WarnerMedia's HBO at its core and is expected to incorporate subscription and ad-supported elements.
In his Screenings presentation, Reilly (who just signed a new four-year deal at WarnerMedia, where he is also president of TBS, TNT and truTV) told international buyers that the company's streaming service will be commissioning original content including "one-hour dramas, half-hour comedies, adult and kids animation, as well as original feature films. All of this programming will be high quality with significant budgets and, in most cases, be globally appealing."
Other media giants about to enter the streaming wars are also planning to offer original films on their services. Apple signed a deal for a slate from independent feature producer-distributor A24, and Disney plans mid-budget films including a live-action version of Lady And The Tramp.
The impending launch of Disney, Warner and NBCUniversal DTC ventures has been a hot topic at this year's LA Screenings. There has been speculation that studios might hold back international rights to some content for their streaming services, and some studios and independents without major streaming plans have predicted an increase in demand for their programming as a result.
However in an interview at the Screenings, Warner Bros Worldwide Television Distribution president Jeffrey Schlesinger insisted that his operation is not restricting deals because of WarnerMedia's streaming plans (the company has said it expects its DTC service to go international eventually but has revealed no timetable for a global roll out).
"Right now the streaming service is being launched in the United States," said Schlesinger. "We have not made any proclamations about what we will do internationally. I think there is interest and ambition, but for the moment for us it is business as usual internationally.
"I love the fact that there's uncertainty in other places where [buyers] go," Schlesinger added, "but when they come to Warner Bros it's very clear that the product they see is the product they can buy."
New drama series that Warner has been screening this week in Los Angeles include Fox network serial killer drama Prodigal Son, with Michael Sheen, CBS legal procedural All Rise and DC Comics-based projects Batwoman and Swamp Thing.