The latest cinematic version of the Peter Pan story swings into 52 international markets this weekend at the same time as it launches in the US.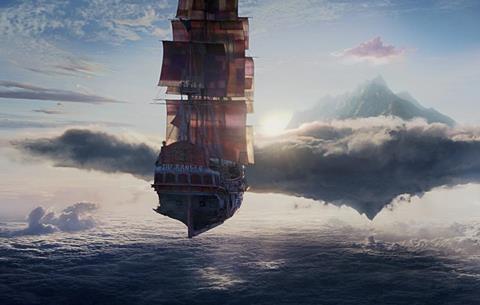 Pan takes flight into the international marketplace this weekend, opening through Warner Bros Pictures International (WBPI) in 52 territories including Germany, Russia, Spain, Korea, Mexico and Brazil.
The family adventure, a new telling of the Peter Pan story with Hugh Jackman starring for director Joe Wright, made an early start internationally in Jackman's home market of Australia and as of Monday (Oct 5) had grossed $3.8m in the territory after two weekends.
The big budget fantasy also opens this weekend in the US.
WBPI's The Intern had amassed $36m internationally as of Monday and it opens on Saturday (Oct 10) in Japan.
Fox International's The Martian will follow its big international debut with an expansion this weekend into markets including Germany, Russia and South Korea.
As of Wednesday (Oct 7), the space story had grossed $49.9m internationally and had still to open in another 24 territories.
Fox's Maze Runner: The Scorch Trials, which so far has taken $150.1m internationally, opens this weekend in France, its third from last market.
Fox's Fantastic Four has reached $109.8m internationally with one territory left to go. And the studio's Hitman: Agent 47 is at $59m with one market remaining.
Pixar's Inside Out, from Walt Disney Studios Motion Pictures International, opened on Tuesday (Oct 6) in China, a final release that should add significantly to the film's international haul of $450.3m.
Disney's Ant-Man has reached an international gross of $231m ahead of its China opening on Oct 16.
Hotel Transylvania 2 opened on Wednesday in France and on inItaly and a handful of smaller territories on Thursday (Oct 8). As of Thursday, the animated sequel had grossed $67.5m internationally, according to distributor Sony Pictures Releasing International (SPRI).
SPRI's The Walk makes its international debut this weekend in Brazil and more than 25 other markets in Latin America and Eastern Europe.
The Visit, from Universal Pictures International, had taken $18.6m internationally as of Monday and opens this weekend in France and French Switzerland.
Universal's Straight Outta Compton has reached $35.7m internationally and hits Mexico and a couple of smaller markets this weekend.
Lionsgate International's Sicario arrived in France on Wednesday and the UK on Thursday.