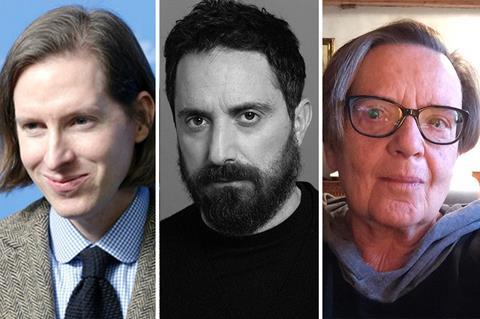 Films directed by Wes Anderson, Agnieszka Holland, Emily Atef, Pablo Larrain and Karim Ainouz are among 14 projects to receive more than €5.2m in total production support from the German regional fund Medenboard Berlin-Brandenburg (MBB) in its latest funding decision.
The largest single amount of €1.5m went to an as-yet untitled project by Wes Anderson which will see the US director continuing his long-standing collaboration with Studio Babelsberg with whom he has partnered on five previous films including The Grand Budapest Hotel, The French Dispatch, and Asteroid City.
The second largest sum of €700,000 was awarded to German director Helene Hufnagel's Agnes & Amir, to be produced by Nordpolaris, followed by €500,000 each for Polish director Agnieszka Holland's next feature Franz, based on the life of the writer Franz Kafka which is being produced by Berlin-based X Filme Creative Pool, and Emily Atef's new project Mercy, to be produced by Gianpiero Ringel's Ringel Film Zweite Produktion.
Production funding was also allocated by MBB in this round to projects including Brazilian director Karim Ainouz's Motel Destino, with Match Factory Productions attached as producer; a renewed collaboration between Germany's Komplizen Film, Chileian director Pablo Larrain, and UK screenwriter Steve Knight on the Maria, with Angelina Jolie set to star as Maria Callas; and Fatih Akin's Amrum which will tell the story of veteran director Hark Bohm's childhood during the Second World War.
MBB also awarded more than €530,000 for the development of 15 projects. They included Piaffe director Ann Oren's Objet, which was pitched by Schuldenberg Films at the Alliance 4 Development platform during the Locarno Film Festival in August, as well as Jasmila Zbanic's Quo Vadis, Aida: The Missing Piece, which is being produced by Razor Film Produktion.
In addition, actress-filmmaker Ina Weisse has received backing for Greta/Zikaden, to which Nina Hoss and Saskia Rosendahl are attached to star in the project for Felix von Boehm's Lupa Film.
Finally, over €785,000 was paid out to support the distribution campaigns of 12 upcoming releases including three titles from Leonine Distribution (Girl, You Know It's True, The Hunger Games: The Ballad of Songbirds And Snakes, and The Flying Classroom), X Verleih's The Last King, Rapid Eye Movies' Four Daughters, and missingFilms' America.