Moonrise Kingdom director says he would consider making a 3D film; and would like to turn his new short for Prada into a series set around the world.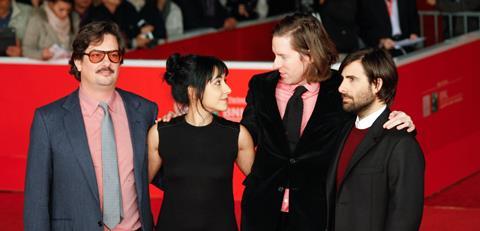 Wes Anderson discussed 3D, animation and an idea for a series of shorts at the Rome Film Festival this evening [Nov 13], where he introduced the world premiere of a short sponsored by Italian fashion label Prada.
The Moonrise Kingdom director, whose Grand Budapest Hotel will open the Berlinale in February, was joined on stage by regular collaborators Roman Coppola and Jason Schwartzman.
Together with cinematographer Darius Khondji, they worked on Castello Cavalcanti, an eight-minute short centred on racing driver Jed Cavalcanti and set during Italy's Molte Miglia rally in September 1955.
Shot at Rome's famous Cinecitta studios, where Federico Fellini made La Dolce Vita, it opens with Cavalcanti (Schwartzman) crashing his car in a village square, where the racing driver soon discovers he has a connection with the people.
Coppola revealed there was a prop included in the short that was used in La Dolce Vita and said: "The fact that we used a prop that had been in that movie was a wondrous thing."
Anderson said the short was inspired by a scene from Fellini's Amarcord (1973) and could be the first in a series set at famous studios around the world.
"I love Jason's character of this racing car driver in the 1950s and we think this could be the first chapter in an ongoing series," the director told a packed theatre at the festival's Cinema Village.
"We have to ask Prada but they have been so enthusiastic and encouraging, I bet they would let us do another one.
"This is sort of connected to Fellini and we filmed it at Cinecittà. Maybe these films could be connected to different countries and different filmmakers. There are many wonderful old studios. There's one in Nice; Toho in Japan; and Ealing in the UK.
"Maybe we could go to the studios that we love from old movies and try set one of these there and connect each one with the filmmakers who worked in that place. It would be a world tour with this guy."
He cautiously added: "It'll probably never happen."
3D
In an interview for an upcoming feature, Vision3's Chris Parks, who was stereo supervisor on Gravity, told Screen that he would like to work with Anderson on a future project.
Asked by ScreenDaily if he would ever consider making a film in 3D, Anderson said: "I would. The 3D in Gravity is unbelievable and Alfonso Cuaron is quite amazing.
"The last movie from him was staggering. The staging of the scenes in Children Of Men are so powerful and exciting. But the 3D in Gravity is at a whole other level and I wouldn't begin to know how to take on scenes the way Alfonso does.
The director continued to enthuse about 3D and revealed he had been watching classic and contemporary movies in the format.
He said: "We recently got a 3D TV and Blu-Ray player. I loved Spielberg's 3D in Tintin. I also got Dial M for Murder, which I'd never seen in 3D, which is essentially in one room. The 3D is mainly used, I found, for lamps. There's a few other things, like the hand reaching out. But just the way the way the lamps and furniture and people are staged in 3D is spectacular. [Hitchcock's] visual mind working in 3D.
"I recently got a photography set by Jacques Henri Lartigue. He shot with a stereo camera. You can order a set of these pictures with a viewer. It's such an enjoyable thing. You look deep into these pictures. It's mesmerising."
Animation
The director, who made stop-motion film Fantastic Mr Fox (2009), said he would like to return to animation but his idea was becoming "increasingly violent" so may find it a challenge to secure financing.
"We have been talking about an animated film together but as we work on it, we are struggling as it's becoming increasing violent, depressing and inappropriate for youngsters so probably won't get funded," he said.
"I would like to do something though as it's been a pleasure to make a couple of films that young people like. With Fantastic Mr Fox, I have all the puppets in our apartment in New York and kids love to see them. So I would like to do something for young people again."
Italian cinema
Asked about Italian film, Anderson said the most recent he had seen was Paolo Sorrentino's The Great Beauty. He considered it Sorrentino's "best" film to date and said lead actor Tony Servillo "is amazing".
"We don't see at least 90% of Italian films but we saw Gomorrah and I love many Nanni Moretti movies," he said, adding that he would like to make a film in Italy in the future having previously made The Life Aquatic With Steve Zissou at Cinecitta.
"I'm interested in the art and culture of Italy today and I'd like to make another film here," said Anderson.
"Working at Cinecittà is special but I've not worked here with a smaller group, more free, out in the world as opposed to the insular nature of a studio. That's the experience I'm looking forward to having in Italy in the coming years I hope."
Next film
Speaking about his upcoming feature, The Grand Budapest Hotel, Anderson said: "It's set in an invented country that is part Czechoslovakia, part Hungary, part Poland.
"The biggest inspiration is the novels and short stories of Stefan Zweig and his memoir, The World of Yesterday. We were also trying to draw on American movies of the 1930s set in Europe, like the films of [Ernst] Lubitsch."
The film recounts the adventures of Gustave H (Ralph Fiennes), a legendary concierge at a famous European hotel between the wars, and Zero Moustafa (Tony Revolori), the lobby boy who becomes his most trusted friend.
Fox Searchlight will release the film in US cinemas on March 7, 2014.
Click here to view the trailer
Beautiful, contained world
Schwartzman, who has acted in several Anderson movies including Rushmore, The Darjeeling Limited and Moonrise Kingdom, said: "Whenever I have the good fortune to work with Wes it's really its own thing.
"When you read the script, it's its own beautiful, contained world. It's always exciting to read the scripts because you know you're going to have fun.
"One of the great things about working with Wes is that the things he wants to make he's interested in them as a director but also as a person. He wants to go to those places and experience those things for himself.
"We had an excitement about working at Cinecittà and building that time period. It was romantic in a lot of ways, in that style and place. Working on Wes' movies, I always have the time of my life."