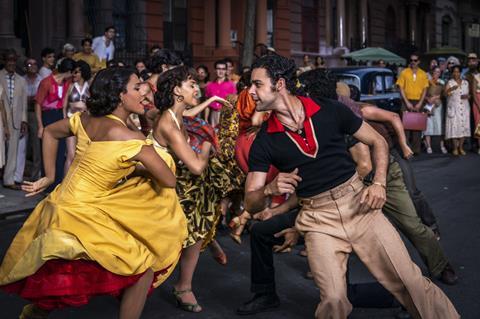 Worldwide box office December 10-12
| Rank | Film (distributor) | 3-day (World) | Cume (World) | 3-day (Int'l) | Cume (Int') | Territories |
| --- | --- | --- | --- | --- | --- | --- |
| 1. | Encanto (Disney) | $23m | $151m | $13.6m | $80.5m | 48 |
| 2. | West Side Story (Disney) | $14.9m | $14.9m | $4.4m | $4.4m | 38 |
| 3. | Schemes In Antiques (various) | $14.6m | $51.6m | $14.6m | $51.6m | 2 |
| 4. | House Of Gucci (Universal) | $14.1m | $93m | $10.1m | $51.9m | 64 |
| 5. | Ghostbusters: Afterlife (Sony) | $13.5m | $164.7m | $6.4m | $52.7m | 54 |
Credit: Comscore, all figures estimates
'West Side Story' disappoints with $14.9m worldwide
UPDATED: In the middle of last week, one box office analyst was looking for Steven Spielberg's West Side Story to open in the $22-31m range worldwide, while reports of midweek tracking suggested a North American opening between $10m and $15m.
The achieved numbers for the Disney release are respectively below and at the low end of those forecasts, with a confirmed $10.6m for North America and $4.5m from the initial 37 international markets, giving a $15.1m worldwide total. The North America number is below the $11.5m debut of Warner Bros' musical In The Heights in June – a film that opened simultaneously in cinemas and on HBO Max. That number was considered disappointing at the time, as were In The Heights' final tallies of $29.9m in North America and $43.9m worldwide.
West Side Story carries a production budget reported at $100m, and needs to do better than In The Heights, which reportedly cost $55m to make.
Leavening the gloom is the fact that mid-December is considered a challenging period for cinemas, with potential audience members often tied up with shopping, holiday season preparations and social plans. West Side Story should gather steam during the coming weeks, however an unknown factor is the impact the Omicron Covid variant is having on audience behaviour.
Among international markets, West Side Story opened strongest in UK/Ireland, landing in first place with a confirmed $1.7m, almost neck and neck with fellow new release Clifford The Big Red Dog. France comes next, opening in third place with $1.1m.
Many key markets are yet to release. The film lands in Spain and Italy just before Christmas, in Australia on December 26, in South Korea in January and Japan in February. A China release is to be determined.
'Encanto' tops global chart for third week
UPDATED: Disney animation Encanto resisted the challenge of Disney's West Side Story to retain the global box office top spot in its third week of release. The film enjoyed strong traction in North America, dropping just 28% from the previous session for a confirmed $10m, while the film dropped 37% in international markets with a final $14.6m.
Totals after three weekends of play are $71.9m in North America, $81.8m for international, and $153.7m worldwide.
Latin America continues to over-perform with the Colombia-set magical adventure, and in Colombia Encanto is now the second highest-grossing animated film of all time, and the biggest title of the pandemic era. Encanto retained the box office top spot in Colombia, Brazil, Mexico and Spain, and in several other markets.
In cumulative totals, France still leads the way among international markets with $9.01. followed by Colombia ($8.2m) and UK/Ireland ($5.6m). Spain ($5.5m) moves up to fourth place, ahead of Russia/CIS ($4.9m) and Italy ($4.7m). Japan ($4.6m), South Korea ($4.3m), Mexico ($4.1m) and Saudi Arabia ($2.5m) round out the top 10 territories.
'House Of Gucci' pushes towards $100m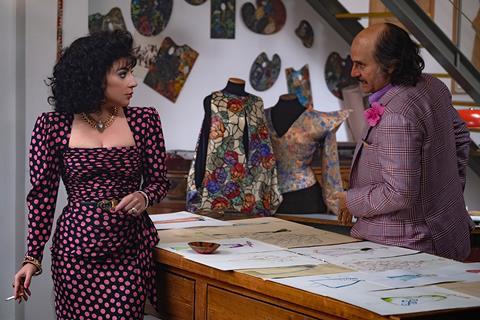 UPDATED: Strong holds in Germany (down 5%) and Russia/CIS (down 19%) helped House Of Gucci deliver reasonably robust numbers at the weekend.
In both those markets, the film was just in its second weekend of play – as opposed to the third weekend for many other territories, where the box office declines were notably bigger.
Overall, Ridley Scott's film grossed an estimated $4m (down 42%) in North America for United Artists, and $10.7m (down 33%) in international markets for Universal/MGM. Cumulative totals are respectively $41m and $52.6m, combining for $93.6m worldwide.
Among international territories, Russia/CIS led the way at the weekend with $2.3m, ahead of Germany ($1.5m) and UK/Ireland ($953,000). For cumulative totals, it's UK/Ireland ($9.7m) leading ahead of Russia/CIS ($6.2m) and France ($4.5m).
House Of Gucci has already tripled the lifetime total of Scott's other 2021 film The Last Duel, which reached a disappointing $30.2m.
Key markets yet to open House Of Gucci include Australia, South Korea and Japan (all in January). Italy opens this week on December 16.
House Of Gucci currently lies in fourth place in the global box office chart – behind not only Encanto and West Side Story but also Chinese film Schemes In Antiques (see China box office report).
Fresh markets boost 'Clifford The Big Red Dog'
Paramount family film Clifford The Big Red Dog moves up from tenth place to seventh in the global box office chart, boosted by fresh openings in UK/Ireland, Russia/CIS, Mexico and several other smaller markets.
Overall, estimated box office was $7.4m for international (up from $3.8m the previous weekend), with territories increasing from 21 to 40. International total is $14.3m, which adds to $47.7m in North America for $62.0m worldwide.
Top international performers at the weekend were UK/Ireland (for local distributor eOne), opening level with West Side Story with an estimated $1.7m, ahead of Russia/CIS ($1.5m) and Mexico ($804,000).
In cumulative totals, France leads with an estimated $1.9m. Spain has an estimated $1.5m after two weekends of play. International holdover markets overall fell just 28% from the previous session.
Key markets yet to open include South Korea and Australia (both this month) and Japan (in January).
Clifford The Big Red Dog is based on the Norman Bridwell book series, first published in 1963. The books have also yielded several animated TV series, most recently in 2019 in a version backed by Amazon Studios and with Clifford voiced by Adam Sandler. Walt Becker (Van Wilder: Party Liaison) directs this latest film version.