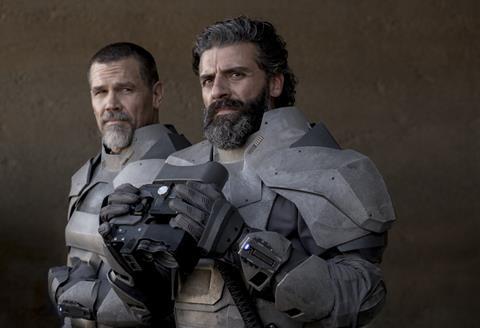 OCTOBER 6 UPDATE: A turbulent few days in the most turbulent of years has left the US industry wondering when, not if, the next major tentpole will drop off the 2020 calendar as exhibition continues to feel the pain and the focus turns to New York.
On Monday (October 5), Dune became the latest casualty of the devastating game of pandemic dominoes that has decimated the release calendar in 2020, moving from December 18 this year to October 1, 2021. This came hours after Cineworld confirmed it will temporarily close its UK sites and venues at its US-based Regal circuit later this week after MGM and Eon pushed No Time To Die into April 2021.
The same day Cinemark, the third largest chain in the US behind AMC and Regal, told Screen it planned to keep its sites open and indeed is opening in more US states this weekend. On Tuesday AMC said it will keep open its sites that have reopened in the US and around the world.
Hollywood continues to worry over the impact of the pandemic as cinemas in New York and Los Angeles remain closed, and regional spikes dampen prospects in key international markets.
"What happens in New York is critical," said John Fithian, CEO of National Association of Theatre Owners (NATO). He argued the ongoing blackout of cinemas there is "not the exclusive reason why we keep losing movies, but it is the number one reason".
Cineworld CEO Mooky Greidinger, whose company's shares fell 30% on the London Stock Exchange on Monday, had expressed similar sentiments.
Warner Bros and Legendary had been expected for some time to move Denis Villeneuve's Dune due to market closures, as well as an eagerness not to clash with stablemate Wonder Woman 1984, which as of today (October 6) is staying on December 25. The question is whether the DC Entertainment sequel and the year's other remaining major tentpole, Disney/Pixar's Soul (November 20), will even be on the 2020 calendar in a few weeks' time.
The signs are not encouraging.
Christopher Nolan's Tenet held on to number one at the US box office over the weekend, adding $2.7m to reach $45.1m after five sessions, narrowly holding off Hocus Pocus, a re-release of a 1993 Halloween family film starring Bette Midler that earned $2m. Overall box office generated just 8% of the gross in the same weekend in 2019. Last year went on to record the third highest-grossing 12 months at the US box office, unadjusted for inflation.
"We're losing more money by being open than we are by being closed at that percentage rate," said Fithian. "I have no doubt that when we get into 2021 and there's a vaccine and people feel comfortable leaving their homes to do all kinds of things, the desire to go out to the movies will be as strong as ever and it will be a very sustainable business. But we need companies to survive long enough to be there."
New York blues
As of Monday, there were still no guidelines as to when cinemas can get back to business in New York, exacerbating a damaging situation for US box office already hampered by capacity restrictions and ongoing customer unease; New York and Los Angeles alone account for roughly 15% of a movie's box office. It is understood Los Angeles County could reopen by early November if Covid-19 infection rates fall within guidelines proposed by California governor Gavin Newsom.
The lack of clear guidance on when cinemas can reopen in New York, however, where other indoor activities such as gyms and indoor dining and church-going have been allowed to resume, is frustrating the US industry.
Fithian and his team at NATO have engaged in dialogue with the office of New York governor Andrew Cuomo, submitted safety protocols and explained the economic arguments, yet said they were no closer to understanding how to move forward.
"There's no way to be subtle about this," Fithian said. "[Cuomo] has to look at the science, he has to look at the economics and he has to allow us to open at least in those counties where it's safe to open."
Noting that exhibition is at an inflection point in an "existentially challenging" time, he added that besides Soul in November, the December tentpoles – Paramount's Coming 2 America with Eddie Murphy and 20th Century Studios' Death On The Nile on December 18, and Wonder Woman 1984 and Universal's News Of The World starring Tom Hanks on December 25 – are in jeopardy.
"All of these movies will move if we can't get New York to open as a market," said Fithian. "And I single out New York because it is hugely important, it's a big box office state." It is also, he noted, an important hive of cultural commentators and influencers.
Can cinema chains survive?
The move by Cineworld was based on a calculation that Hollywood may not like but understands: remove operational costs and aim to reopen when there is a return of major product that can drive masses back to the cinemas. Yet many are asking whether debt-laden cinema chains that have suffered massive losses after closing for half the year will even be around in 2021 when distributors, who favour global day-and-date for their major tentpoles but have VoD platforms to fall back on, deem it safe to release their prize assets.
"Theatres deserve as much government support as possible," said David A. Gross who runs US consultancy Franchise Entertainment Research. "These are prosperous businesses when public conditions are healthy, and they will prosper again when the pandemic is over. For now, weekend business in the US is down 90%. Theatres need help getting through this."
NATO and a Hollywood cohort that includes Motion Picture Association, Directors Guild of America and dozens of filmmakers including Martin Scorsese, Barbara Broccoli and Steve McQueen, are lobbying US lawmakers to pass a stimulus package like the $2.2tn one back in March that has kept the entertainment business and many other sectors afloat.
"We're asking Congress to help and our compatriots in the UK are asking their governments to help, because if we don't get some kind of liquidity help, we're going to lose – most of our smaller and mid-size members are going to go bankrupt or be closed entirely by December 31," said Fithian. "We have surveyed them and 69% say they'll close their doors or file for bankruptcy by the end of the year. So it's dire."
Stimulus package negotiations between House speaker Nancy Pelosi and the treasury ended without agreement on Monday and will not resume until after the US presidential election on November 3, after Donald Trump put the kibosh on talks. That means federal pandemic relief for exhibitors – among many other sectors in the US – will not come at least until Congress reconvenes in January.
Meanwhile all eyes remain glued on the release calendar.
"The date changes are not a surprise – they are the right thing to do," said Gross. "As long as the pandemic remains out of control in the United States, which it is, worldwide box office for a studio franchise release is going to be -30% to -50% below normal. These are billion-dollar franchises. There is no reason to take a discount like that."
Sony's decision late on Monday to move Milla Jovovich vehicle Monster Hunter from April to December 30 in the US will offer little succour for exhibitors in 2020, although it could give those cinemas still standing a decent start to 2021.