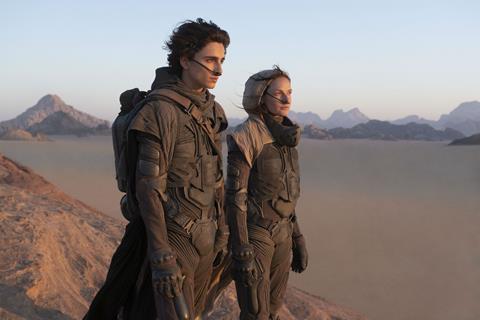 Warner Bros and Legendary Pictures have pushed back the release of fantasy epic Dune from December 18 to what sources say could be October 1, 2021.
Neither company confirmed the development on Monday (October 5), which it is understood follows other tentpole postponements.
Studios have pushed back their releases in light of the ongoing pandemic, uncertainty over when cinemas in New York and Los Angeles will open and a perceived reluctance by cinema-goers to return in large numbers, as well as infection spikes in key international markets.
Furthermore ever since Warner Bros redated Wonder Woman 1984 to December 25 this year, observers had been expecting a schedule change so the two films from the same studio did not impact each other's box office prospects.
The December 25 global day-and-date release of Wonder Woman 1984 remains on the schedule at time of writing.
Warner Bros' The Batman is currently for October 1, 2021. Given production delays to that fim, insiders are saying it could get bumped further back in the release calendar.
On Monday Cineworld confirmed it will temporarily close all its 127 UK sites and its 536 US Regal sites on Thursday. This came after MGM/Eon said last week it was postponing the release of No Time To Die to April 2021.
Timothée Chalamet and Zendaya star in Denis Villeneuve's all-star adaptation of Frank Herbert's popular novel about the scion to a royal family charged with protecting a valuable spice.
The Dune cast includes Oscar Isaac, Jason Momoa, Javier Bardem, Stellan Skarsgård, Rebecca Ferguson, Josh Brolin, and Dave Bautista.
Collider first reported the Dune news.