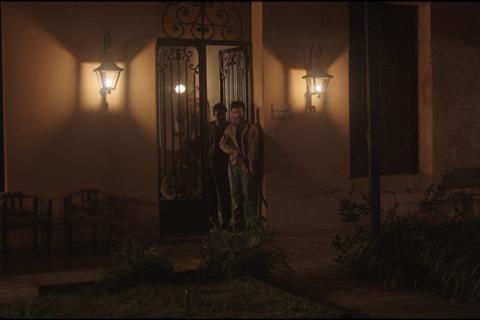 Horror When Evil Lurks, drama León – both from Argentina – and fantasy drama Almamula, a co-production between Argentina, Italy and France, were among the winners as Ventana Sur came to a close on Friday in Buenos Aires.
The prizes come with development and/or completion funds, or attendance at partner events, underscoring Ventana Sur's reputation as a critical support platform for Latin American content.
Demian Rugna's Blood Window Screenings Award winner When Evil Lurks, the first Spanish-language production for Shudder in co-production with Aramos Cine and Machaco Films, got a first market screening in post-production. The theatre was packed to the brim and earned enthusiastic plaudits.
The Blood Windows Screenings Award is granted in partnership with Sitges, which will present the film at next year's Marché du Film and select it at its 56th edition in October 2023.
Buzz project León directed by Andrea Nachón and Papu Curotto took the Cine Plus Award in the Primer Corte sidebar. It comes with €15,000 for the French distributor that acquires the film in the next two years. León revolves around a mourning woman who must rebuild her family and is produced by Hain Cine.
Almamula is a fantasy drama by first-timer Juan Sebastián Torales. The film follows 12-year-old Nino, who is attacked for being homosexual. To protect him, his father accepts a job in a mountainous area and takes the whole family with him. Produced by Tu Vas Voir, Twins Latin Films and presented at Copia Final, Almamula took the €15,000 award for distribution to the French distributor.
In the Proyecta section, one of the prizes went to The Beach House, the debut of Kim Elizondo. An editor – like Torales – Elizondo has made a romantic dramedy with absurd touches around a woman who cannot understand how her "charming prince" suddenly disappears. The prize comes with an accreditation for one of the producers of the project to participate at the Producers Network 2023 of the Cannes' Marché du Film. It is produced by Gabriela Fonseca at Costa Rica's Bicha Films (Un Certain Regard entry in 2022 Domingo And The Mist, directed by Ariel Escalante).
Jérôme Paillard, the co-director of Ventana Sur alongside Bernardo Bergeret, summarised the event: "In short, I would say that this edition has exceeded our expectations, especially regarding the quality of the projects proposed in the different sections and the welcome they received from professionals. For some of them, Latin Americans and Asians in particular, it was still their first market since the pandemic. This shows the energy and the joyful atmosphere that prevailed during these five days."
2022 Ventana Sur awards winners:
PRIMER CORTE
Cine Plus Club: Cine Plus Award
León (Arg) dir. Andrea Nachón, Papu Curotto
Titrafilm Award
Sariri (Chil) dir. Laura Donoso
Sofía Films Award
Betania (Bra) dir. Marcelo Botta
Nmf Y Color Front Award
Betania
LaMayor Cine
Goodbye Love (Mex) dir. Indra Villaseñor Amador
CAACI Award
Xibalba Monster (Mex) dir. Manuela Irene
WIP PROJETO PARADISO
Paraguayan Loves (Bra) dir. Janaína Marques
COPIA FINAL
Cine Plus Club: Cine Plus Award
Almamula (Arg-Fra-It) dir. Juan Sebastián Torales
Titrafilm Award
Correspondent (Arg) dir. Emiliano Serra
Apclai
We Shall Not Be Moved (Bra) dir. Pierre Saint Martin Castellanos
SOLOSERIES
Netflix Award
Convince Me (Arg) dir. Vera Fogwill
BBC Studios Award
Timecode (Bol) dir. Mauricio Zeballos
Flixxo
Gualicho (Arg) dir. Pendiente
PROYECTA
Marché du Film–Festival de Cannes Award
The Beach House (CR) dir. Kim Elizondo
BLOOD WINDOW
Blood Window Screenings Award
When Evil Lurks (Arg) dir. Demian Rugna
Fant. Latina / Women in Fan
The Visitors (Uru) dir. Lucía Nieto Salazar
Sitges, Fantastic Film Festival of Catalonia Award
The Glimpse (Uru) dir. Guillermo Carbonell
Bifan/NAFF Award
Plasma (Chil) dir. Daniel Aspillaga
Apima Asociación de Productores Independientes de Medios Audiovisuales Awards
Anomic (Col) dir. Andrés Beltrán Nossa
Terror Molins Film Festival Award
The Queen (Arg) dir. Jimena Monteoliva
Cine Qua Non Lab
The Glimpse
La Mayor Award
The Horned Frog (Arg) dir. Augusto Sinay
ANIMATION!
MIFA/Annecy - Special mentions

The Friends (Bra) dir. Lucía Nieto Salazar
Teke Uneka (I Don't Understand You, Arg-Col-Sp) dir. Marcelo Dematei
MIFA/Annecy Awards

TV-show
The Impossible Future (Arg) dir. Martín Haas, Antonio Balseiro
Esther (Arg) dir. Ezequien Torres
Feature
Chocó: The Land And The Monsters (Col) dir. Estefanía Piñeres Duque
My Dad The Truck (Col) dir. María Cristina Pérez
Other prizes

Pixelatl
Elementarians (Arg) dir. Pablo Conde
Weird Animation, Video games & New Media Market
Esther
Quirino Awards
The Impossible future
Kiing Gastão
La Liga
Chocó: The Land And The Monsters
LatinX Animation Award
Witch's Business (Chil) dir. Alejandra Jaramillo
PUNTO GÉNERO
Gender - DAC Award
Diamond (Boli) dir. Yashira Jordán
The Marriage (Brazil) dir. Maíra Bühler
APIMA Gender Award
Blue Green (Mex) dir. Paulina Urreta Torres
DOC SUR

Trieste Film Festival - APCLAI
In The Shade Of Light (Chil) dir. Isabel Reyes, Ignacia Merino
APIMA DOC
Crazy For Bento (Bra) dir. Giuliana Monteiro
MAQUINITAS
Best Art Award
Beacon Of Neyda (Arg) dir. Christian Daniel Molina
Best Design Award
Chai (Arg) dir. Andrea Odreman,
Best Technical Challenge Award
Project R (Chil) dir. Branko Milic.