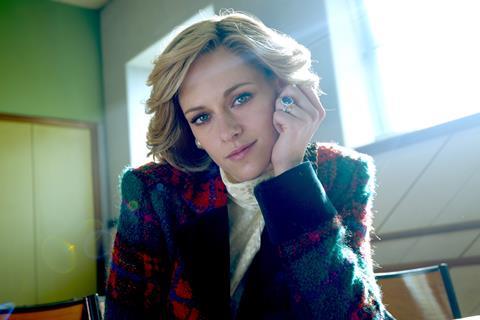 What do Pablo Larrain's Spencer and Kornel Mundruczó's Evolution both have in common?
Technically, they are German films because they have German producers - Komplizen Film and Match Factory Productions respectively - serving as majority partners in the co-production structures.
But German film critics are hard to convince and report with almost undiluted Schadenfreude that "again, there's no German film" when major international festivals announce their line-ups.
As Simone Baumann, CEO of German Films, explained, Germany was a partner in no less than 21 titles in Cannes' festival programme - albeit as a minority co-producer - in addition to Mundruczó's film and Sebastian Meise's Great Freedom (a majority German co-production) which opened this year's Filmfest Hamburg last Thursday.
She admitted it had "not been satisfactory" that there hadn't been a German majority production with a German director in the festival programme.
But, at the same time, these films are a good advertisement for the attractiveness of Germany's production landscape and its producers' readiness to serve as co-production partners on projects from around the globe.
Meanwhile, there was consensus among the panel's speakers, who also included sales agent Andreas Rothbauer of Berlin-based Picture Tree International, writer-director Feo Aladag and UK-born, Hamburg-based film editor Andrew Bird, that all too stringent film funding guidelines have a negative impact on the kinds of films being produced because of the constant need to fulfil certain criteria such as cultural tests and regional "economic effects".
Rothbauer cited Stefan Ruzowitzky's The Counterfeiters as an example of the tug of war that can erupt between countries each claiming a production as "their film".
The film was a 50-50 co-production split between Germany and Austria, "but then it won the Oscar and there was the question of who would have the party in Los Angeles? Would it be the Austrians or the Germans?," Rothbauer recalled. (It was the Austrians.)
And the suggestion that German comedies don't travel prompted him to offer the counterargument of Fack Ju Göhte which Picture Tree has sold to over 40 countries.
"In a small country like the Czech Republic it had more than 300,000 admissions whereas [the Hitler bunker drama] Downfall only had 40,000," he recalled.
Inevitably, as in most film industry panels in Germany, discussion constantly returned to the pros and cons of the German film funding system, the dominant position of the German broadcasters as gatekeepers deciding on which projects could even consider applying for funding in the first place, as well as the concentration of funds on the supporting of production as opposed to investing more in project and script development.
Whether a reform of the current German Film Law (FFG) will have any positive effects for German cinema's international presence and relevance remains to be seen. In any case, it would be a welcome sign if more money was invested in the international promotion of films 'made in Germany'.
At the moment, only 1.8% of the €450m made available by federal and regional funding bodies is channelled into international measures including German Films.
Apart from calling for changes to the funding structures and criteria, one should perhaps also encourage the nation's filmmakers and producers to change their mindset in future if they want to be on a par with their opposite numbers in other countries.
Baumann said she regretted that not many producers were thinking in international terms when developing their projects. "At German Films we see too few majority German productions in development even applying to take part in international markets at pitchings, works in progress and other industry sessions."
Having worked as a producer on many international co-productions before coming to German Films, Baumann knows the value of these industry events as a way of testing the market with a project to gauge its potential.
To this end, the promotion body has embarked on cooperative ventures with such initiatives as Torino Film Lab and Rotterdam Lab so that the producers can already make contact with festival programmers and sales agents whilst their project is still at the development stage.