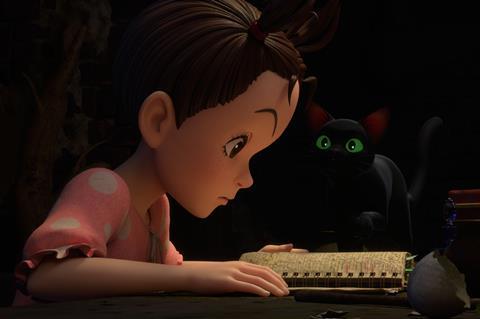 Wild Bunch has acquired all French rights to the entire catalogue of celebrated Japanese animation house Studio Ghibli, including its new animated feature Earwig and the Witch.
Disney has traditionally released Studio Ghibli titles in France, but the licensing deal has recently come to the end of its term. The Wild Bunch deal came into effect on September 2.
The accord includes Gorô Miyazaki's Earwig And The Witch. The film is the studio's first feature animation in six years and made it into Cannes's special 2020 Official Selection in June.
Japanese broadcaster NHK is due to premiere the title in Japan in December. Wild Bunch is planning a theatrical release in France in 2021.
Studio Ghibli and the the Wild Bunch group are longstanding partners. Wild Bunch has handled international sales on many of the studio's films and the companies were co-production partners on 2016 feature animation The Red Turtle by Michael Dudok de Wit.
The overall deal covers 21 titles including studio co-founder Hayao Miyazaki's Nausicaä of the Valley of the Wind, Castle in the Sky, My Neighbor Totoro, Kiki's Delivery Service, Porco Rosso, Princess Mononoke, Spirited Away, Howl's Moving Castle, Ponyo on the Cliff by the Sea and The Wind Rises.
The other titles comprise co-founder Isao Takahata's Only Yesterday, Pom Poko, My Neighbors the Yamadas and The Tale of The Princess Kaguya as well as Tomomi Mochizuki's Ocean Waves, Yoshifumi Kondō's Whisper of the Heart, Hiroyuki Morita's The Cat Returns, Gorō Miyazaki's Tales from Earths and From Up on Poppy Hill, and Hiromasa Yonebayashi's Arrietty and When Marnie Was There.