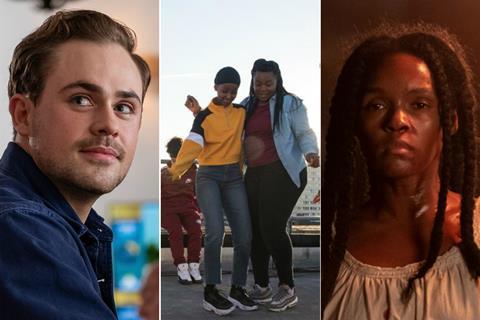 France, opening Wednesday September 9
The French box office appeared to be on route to recovery in the first week of September thanks to the launch of Tenet and a wider range of titles on release generally. It now remains to be seen if this momentum can be sustained with further US studio releases remaining elusive and the country on high alert following a spike in Covid-19 cases.
French cinemas this week will mainly be reliant on local films to draw spectators.
This week's biggest release is Jean-Paul Salomé's crime comedy drama Mama Weed starring Isabelle Huppert as a police translator turned drug dealer. Le Pacte launched it on some 500 copies.
Other mainstream local titles include Daniel Cohen's A Friendly Tale, starring Bérénice Béjo as a woman whose unexpected literary success throws her close relationships into disarray. It was released on roughly 450 copies by SND.
UK filmmaker Sarah Gavron's Rocks also hits French theatres on some 100 screens for Haut et Court, which has opted for an original language, subtitled release. Further non-French language releases include Italian director Carlo Sironi's drama Sole, which debuted in Venice in 2019, for Les Valseurs.
US releases include horror-thriller Antebellum for Metropolitan Film Export, on some 375 copies, and Martin Rosete's Alzheimer's-themed, romantic drama Remember Me for Alba Films.
As distributors and theatres continue to experiment with programming, a slew of documentaries have also come out theatrically in France this week. Among them is French filmmaker Sébastien Lifshitz's Adolescents, which debuted in Locarno in 2019 (Ad Vitam); Camino Skies, following a group of walkers tackling the Camino de Santiago pilgrimage route, (L'Atelier Distibution) and The Squad, which follows Olympique Lyonnais's champion female team (Rouge Distribution).
Italy, opening Thursday September 10
A collection of Venice titles dominate Italy's new releases this week as the 2020 festival comes to a close. They include two Competition titles: documentary Notturno by Gianfranco Rosi (01 Distribution); and drama The Macaluso Sisters by Emma Dante (Teodora Film). Also in cinemas is the out-of-competition Sardinian noir Assandira by Salvatore Mereu (Lucky Red); Critics' Week Italian drama Thou Shalt Not Hate by Mauro Mancini (Teodora); and Giornate degli Autori drama Spaccapietre by the De Serio brothers featuring Gomorra's Salvatore Esposito in the leading role (La Sarraz).
In addition, BIM Distribution is releasing the 2019 supernatural horror The Vigil, directed by Keith Thomas, as well as Kim Hagen Jensen's Danish animation film Dreambuilders; while Medusa has Tristan Seguela's French comedy Docteur.
At the box office, 01 Distribution's release of After We Collided outperformed Warner Bros' sci-fi Tenet. The teen drama took first place with €1.5m, with the second weekend of Christopher Nolan's blockbuster bringing in €954.000.
This is not unprecedented since the early September slot has always been the best one for teen dramas in Italy, coming at the end of summer and before schools reopen.
Disney's The New Mutants opened third with €102,000. Two titles from Venice 2019 are also in the top 20 in their first weekend. Haifaa Al-Mansour's The Perfect Candidate held 10th position for Academy 2 with €17,000; while Pablo Larrain's Ema entered in 13th with €10,900 for Movies Inspired.
Germany, opening Thursday September 10
DIsney's The New Mutants , Stella Meghie's romantic drama The Photograph, starring Issa Rae for Universal and Telepool's release of Julian Landweer's comedy Faking Bullshit – Krimineller als die Polizei erlaubt! open in Germany this weekend. All had been set to open on August 27, before being pushed back by two weeks whenWarner Bros' Tenet re-dated to the last weekend of August.
Also opening are the culture clash romantic comedy Kiss Me Before It Blows Up by Israeli writer-director Shirel Peleg (X Verleih); first-time filmmaker Eliza Schroeder's UK feel-good movie Love Sarah, starring Celia Imrie (Weltkino); Polish blockbuster director Patryk Vega's cop thriller Pętla (Kinostar), which is released just a week after its premiere in Polish cinemas via Kino Swiat; Portuguese filmmaker Pedro Costa's bleak drama Vitalina Varela, the winner of the Golden Leopard at last year's Locarno Film Festival (Grandfilm); and a restored version of Georgi Danielija's classic Soviet scifi comedy Kin-dza-dza! (Drop-Out Cinema) from 1986.
This week's busy and eclectic line-up is rounded off with four documentary titles. Evelyn Schels' Body Of Truth (Filmwelt) portrays four internationally acclaimed women artists Sigalit Landua, Shirin Neshat, Marina Abramovic and Katharina Sieverding. Meanwhile Dutch directorPaul Hegeman's That Pärt Feeling – The Universe of Arvo Pärt (Film Kino Text) celebrates the most performed living composer of our times ahead of his 85th birthday, and Happy Entertainment's Canadian film Anthropocene The Human Epoch is a meditation on humanity's massive reengineering of the planet.
Finally Mindjazz Pictures' local title We Almost Lost Bochum – Die Geschichte der RAG is about RAG, one of the leading German rap crews of the 1990s.
UK-Ireland, opening Friday September 11
This weekend is the most plentiful for new releases since cinemas reopened in the UK and Ireland, with seven new titles plus several prominent back catalogue releases.
Leading the way in number of screens is Natalie Krinsky's romantic comedy The Broken Hearts Gallery, Sony Pictures' first wide release since Bloodshot on March 11, which plays in over 480 locations. Geraldine Viswanathan stars as a young woman who starts a gallery where people can leave trinkets from past relationships. The release was originally set for July 10; before moving to July 17, then August 7, before settling on this weekend.
Sally Potter's Berlin 2020 Competition title The Roads Not Taken is another to hit cinemas this weekend after a delay, playing in 250 locations. Starring Javier Bardem, Elle Fanning, Salma Hayek, and Laura Linney, it depicts a day in the life of a New York City resident who is suffering from dementia.
Vertigo Releasing has been among the most prolific distributors across the summer, and debuts its latest, Sam Kelly's crime drama Savage, in 118 sites this weekend. Inspired by true stories of New Zealand street gangs, it follows a man at three defining moments in his life as a violent enforcer.
Event cinema titles are starting to reemerge: Break The Silence: The Movie, the latest concert film from K-pop sensation BTS, plays in 345 venues through Trafalgar Releasing on Saturday and Sunday, following its initial release on Thursday.
There are limited releases for Aki Omoshaybi's UK romance Real, which debuted at London Film Festival last year, through Verve Pictures; Natalie Johns' music documentary Max Richter's Sleep in 22 sites through Dogwoof; and Václav Marhoul's Venice 2019 Competition entry The Painted Bird, in 11 sites through Eureka Video.
BFI Distribution is distributing its first title since lockdown, with a 24-site release of Mathieu Kassovitz's 1995 black-and-white crime pic La Haine; while Curzon Artificial Eye, which released Bong Joon Ho's Oscar-winner Parasite in February, is following up with the director's 2003 second feature Memories Of Murder.
Also of note is the second-weekend expansion of After We Collided through Shear Entertainment, from 40 sites to over 400. The teen drama sequel grossed an outstanding £254,771 including previews last time out, and is now playing in major chains including Cineworld, Odeon, and Vue.