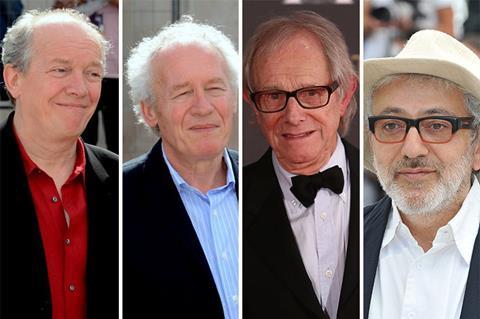 Wild Bunch is set to launch a raft of upcoming films by long-time collaborators at Cannes this year, including UK director Ken Loach's social drama Sorry We Missed You, exploring the issue of hardship in modern-day Britain through a family scraping to get by in a casual jobs market.
The Paris-based company's Cannes slate also includes future films by Jean-Pierre and Luc Dardenne, Elia Suleiman, Arnaud Desplechin, Hirokazu Kore-eda, who will direct a French-language film for the first time in his career, and documentarian Pascal Plisson.
"If last year we were working with a lot of new people, our slate this Cannes marks the return of our long-time directors. The Wild Bunch family is very much back at work," says Wild Bunch co-chief Vincent Maraval.
The slate also features a number of first-time feature filmmakers, including Swiss director Anthony Jerjen's Josh Hartnett-starring crime family drama, Inherit The Viper, produced by Michel Merkt and Barry Films, and Allan Mauduit's female-focused dark comedy Rebelles.
Details on Loach, Dardennes, Desplechin, Suleiman, Plisson projects
Wild Bunch will have a script in Cannes for Sorry We Missed You, which is due to shoot this autumn. Loach's long-time producer Rebecca O'Brien is producing alongside Why Not Productions and the Dardennes brothers' Les Films du Fleuve.
The Dardennes are also gearing up to shoot their eleventh joint feature Ahmed, a contemporary tale about a Belgian teenager who plots to kill his teacher after embracing an extremist interpretation of the Koran.
"It's the tale of the radicalisation of a young boy in Belgium," says Maraval. "A strong aspect of the script is the way it opens a debate around the interpretation of the Koran by a young kid under influence."
Wild Bunch will also kick off sales on Arnaud Desplechin's Roubaix, A Light starring Roschdy Zem as Daoud, an experienced, no-nonsense police chief in the northern French city of Roubaix trying to get to the bottom of the brutal murder of an old woman by two female neighbours and lovers, labelled as alcoholics and addicts.
"It's Desplechin's first foray into the realm of the detective thriller," says Maraval.
Antoine Reinartz, best known internationally for his supporting role in 120 BPM (Beats Per Minute), co-stars as rookie police officer Louis. César Award-winning actress Sara Forestier plays one of the murderous women.
Why Not Productions is producing and Le Pacte has already acquired French rights. Desplechin wrote the script with Léa Mysius whose debut feature Ava premiered in Cannes Critics' Week last year.
Sales will also commence in earnest on Palestinian director Elia Suleiman's long-awaited feature It Must Be Heaven, which starts shooting May 6.
Like many of Suleiman's past works – such as Chronicle Of A Disappearance, Divine Intervention and The Time That Remains – the new production will also feature the director as the protagonist and narrator.
In this film, Suleiman has quit his native Palestine in search of an alternative homeland where he is not confronted with daily violence, roadblocks and identity checks. He arrives in Paris, in the aftermath of a wave of terror attacks, and finds himself witnessing the same police and military presence, border controls and racism that he experienced back home.
Disappointed, he heads to New York, where similar episodes play out, and then Lebanon, where it is the same story. As he wanders, the director ponders the fundamental question of what is the meaning of home.
"It's a comedy, probably his funniest one, very much in the vein of Suleiman's past films in which he is the observer looking in, this time capturing a reality through the eyes of an outsider," says Maraval.
Rectangle Productions and Michel Merkt are producing and Le Pacte has taken French rights.
The company will also launch sales on French documentary maker Pascal Plisson's new feature Gogo, about the real-life story of Priscilla Sitieni – a Kenyan grandmother living in a small village in the Rift Valley, affectionately known as Gogo – who is completing her final year of primary school at the ripe old age of 94, a challenge she set herself to give an example for younger generations.
"The film will follow her final year ahead of getting her primary school diploma… but this is also a film about education for young girls at a time when 65 million girls around the world still don't go to school," says Maraval. "We'll be able to show some preliminary footage at Cannes ahead of the shoot which kicks off in July."
Wild Bunch, which previously handled international sales on Plisson's On The Way To School, about the arduous journey undertaken by children worldwide to get an education, is producing the feature alongside Ladybirds Cinema and Le Pacte.
Kore-eda heads to France
Wild Bunch will also roll out Japanese director Hirokazu Kore-eda's French-language debut The Truth About Catherine, starring Catherine Deneuve as diva-actress Catherine whose private persona deviates radically from the image presented in her recently published memoirs.
Juliette Binoche plays her long-suffering daughter, who moved to the US to escape her overbearing mother, but now returns to France with her husband and young child in tow, at the behest of Catherine to support the promotional campaign for the memoirs.
A stormy reunion awaits mother and daughter, against the backdrop of Catherine's latest role in a sci-fi picture as a mother who never grows old.
"Kore-eda's another member of the Wild Bunch family who is back… this film is completely different from his past works," says Maraval. "It's sort in the vein of Sunset Boulevard… in the way it revolves around the myths and reality of an actress."
First-time films
On the first-time features front, Mauduit's dark comedy Rebelles stars Cecile de France, Audrey Lamy and Yolande Moreau as three women who are brought together by the accidental killing of their lecherous boss at the fish-canning factory where they work.
When they discover a stash of stolen cash on his body, they decide to dispose of the body and divide the loot. They soon run into hot water when the gangsters to whom the money belongs turn up and cans containing the pulped body of their dead boss are delivered to a charity for distribution.
Mauduit is best known internationally as the creator and writer of the award-winning TV series Kabul Kitchen, about a French restaurateur who sets up shop in the Afghanistan capital. He wrote the screenplay with Jérémie Guez, whose recent credits include the thriller A Bluebird In My Heart.
Matthieu Tarot at Paris-based Albertine Productions whose previous credits include Gemma Bovery and Courted is producing.
Jerjen's Inherit The Viper, meanwhile, unfolds in a rural community in West Virginia and revolves around the local Riley clan, whose lives are marked in different ways by their involvement in the illegal trade of Oxycodone painkillers.
Hartnett stars as the older brother Kip, an Iraqi war veteran who wants out of the business and would like to keep his younger brother Boots out of it too, alongside Margherita Levieva as older sister Josie, who runs the shop. Boots has other plans, however, and makes a move that puts the whole clan in danger.
"I saw a first cut and picked it on the basis of that. It's extremely well done, and the birth of a new talented filmmaker. This is a good candidate for Toronto or Sundance," says Maraval.
The company is also handling international sales on six Cannes titles this year including Palme d'Or contenders Kore-eda's Shoplifters, Nadine Labaki's Capernaum, Jean-Luc Godard's The Image Book and AB Shawky's Yomeddine as well as Un Certain Regard selection Long Day's Journey Into Night by Bi Gan and Gaspar Noé's Climax, which will premiere in Directors' Fortnight.