EXCLUSIVE: Company also reveals more details about Claire Denis's High Life and will show fresh footage of Emir Kusturica's On The Milky Road.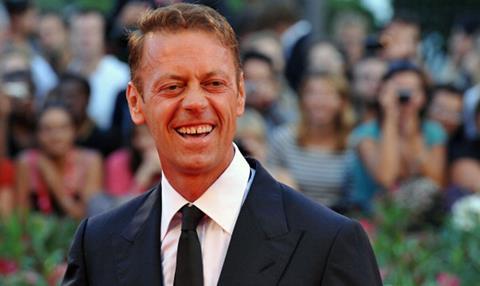 Wild Bunch will kick-off sales on an authorised, no-holds-barred documentary about legendary Italian porn star Rocco Siffredi at the upcoming EFM.
Simply entitled Rocco, the documentary features a candid interview with the star in which he speaks about his true life, touching on his early career, fame and life with his wife of 20 years, Rosa Caracciolo, who he co-starred with in Tarzan X: Shame Of Jane- before they married and went on to have two children together.
Sometimes referred to as the "Italian stallion", Siffredi has appeared in more than 1,500 films over his 30-year career and also dabbled briefly in the French arthouse cinema world, appearing in Catherine Breillat's Romance and Anatomy Of Hell.
The film also follows Siffredi's recent decision to quit the porn business for good, shortly after appearing on Italian reality show L'Isola Dei Famosi.
It is the latest work from directorial duo Thierry Demaizière and Alban Teurlai whose recent documentary Relève followed the short-lived reign of Benjamin Millepied as director of the Paris Opera Ballet, revealing his growing discontent with the institution before he quit last week.
Spanish acquisition
The company will also launch sales on recent Spanish acquisition Kiki Love To Love, directed by and co-starring popular TV and film star Paco Leon.
A remake of 2014 Australian film The Little Death by Josh Lawson, it explores desire and fantasy through five stories of love and sex in Madrid.
"It's very funny but it's more than a comedy with a feel of Almodovar's early films to it. It will have a big release in Spain and we think it could work anywhere," said Maraval.
The film - produced by Spanish Telecinco Cinema and Spain-based Vertigo Film - is due to be released in Spain this April.
'High Life' script available
The company will also officially kick off sales of Claire Denis's upcoming English-language, sci-fi film High Life - starring Robert Pattinson, Patricia Arquette and Mia Goth - about a group of convicts duped into joining a difficult space mission in the belief they will be freed if they are successful.
"The authorities have no intention of ever letting them return to earth. They want the inmates to procreate and raise a child in space as part of a larger experiment," explained Maraval.
The film follows the character of Monte a few years after the mission's launch as he raises his daughter, Willow, in complete isolation on the empty spacecraft as it heads towards its final destination, a black hole.
He fathered Willow against his will after his sperm was used to inseminate another convict in space as part of the experiment. In the process of raising her, however, he comes to experience real love for the first time in his life.
The screenplay by Claire Denis, long-time collaborator Jean-Pol Fargeau and acquisitions agent Geoff Cox, who recently took a collaborative writing credit on Lucile Hadžihalilović's Evolution, will be available at the EFM.
As previously announced, the filmmaker is re-teaming with cinematographer Agnes Godard, as well as Stuart Staples and the Tindersticks for the original music and sound design. Long-time Leon Carax editor Nelly Quettier has also boarded the project. French physicist and black hole expert Aurelien Barrau has been drafted in as a scientific advisor.
Danish-Icelandic artist Olafur Eliasson, known for his Tate Modern installation The Weather Project is the artistic director. Paris-based company BUF, which recently worked on The Transporter Refuelled, Love and The Lobster, is handling the special effects.
"It will be Olafur Eliasson's first cinematic experience. He will be overseeing the design of the spacecraft which is really important for the film," said Maraval.
The €8m production - produced by French Alcatraz Films, Germany's Pandora Film and The Apocalypse Films Company in the UK - is due to shoot this summer in Germany.
Other French titles
The company will also continue sales on a number of French titles announced ahead of the Unifrance Rendez-vous with French Cinema in Paris last month including Jacques Doillon's Rodin, starring Vincent Lindon as the legendary sculptor; Alain Guiraudie's Staying Vertical (Rester Vertical), Gilles Marchand's new film In The Forest, Rachida Brakni's feature debut Visiting Hours and Raymond Depardon's France.
Cannes titles
With Cannes fast approaching, Wild Bunch will also have first images, footage and new promos for a number of titles with Official Selection potential, including Radu Mihaileanu's The History Of Love, Hirokazu Kore-eda's After The Storm, about a fallen prize-winning novelist, Michael Dudok De Wit's feature-length animation The Red Turtle and Stephane Di Giusto's The Dancer as well as Emir Kusturica's long-awaited On The Milky Road, which was shot over a three-year period.
"We'll show either a first promo or extracts of Kusturica's film and almost 10-minutes of The History Of Love," said Maraval.
Other Cannes hopefuls on the slate include Romanian Cristian Mungiu's untitled drama about the responsibilities and challenges of fatherhood and Jean-Pierre and Luc Dardenne's The Unknown Girl.
Berlinale titles
Berlinale films on the Wild Bunch slate include Bouli Lanners's The First The Last, which screens in Panorama, and Lee Tamahori's The Patriarch which will premiere out of competition.