It Comes At Night debuts in sixth place through A24; Meagan Leavey arrives in eighth through Bleecker Street.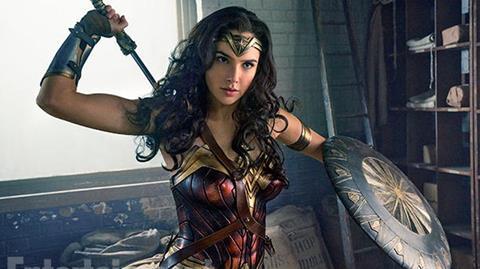 Warner Bros' Wonder Woman fell 44% and held on to first place in North America at the weekend, adding an estimated $57.2m to reach $205m in its second session.
Last weekend's record-breaking North American debut by a female filmmaker (Patty Jenkins) provided a robust platform and the superhero adaptation starring Gal Gadot did not disappoint as it crossed $200m after 10 days.
Meanwhile Tom Cruise returned to action in Universal's The Mummy but the opening was lacklustre as expected, delivering $32.2m from 4,035 theatres in second place.
The first instalment in the studio's 'Dark Universe' reboot of its classic horror franchises reportedly cost $125m excluding marketing spend and drew dismal reviews, although the international arena is compensating for the North American shortfall and delivered $141.8m for a useful $174m global haul after the first few days.
Elsewhere, A24 continued to sparkle as Trey Edwards Shults' horror It Comes At Night – his follow-up to the acclaimed Krisha – arrived at number six on $6m from 2,533. The per-site average is unremarkable, although A24 will appreciate the exposure from the top 10 launch which, coupled with glowing reviews, should ensure a healthy box office run.
Bleecker Street opened the military drama Meagan Leavey starring Kate Mara at number eight on $3.8m from 1,956 sites, while Fox Searchlight's drama My Cousin Rachel with Rachel Weisz opened in eleventh place on $954,000 from 523.
Roadside Attractions opened Sundance pick-up Beatriz At Dinner starring Salma Hayek at number 20 on a superb $150,160 from five theatres. FilmNation co-acquired North America and Australia and New Zealand with Roadside in its first foray into North American acquisitions. Sierra/Affinity handles international sales.
Overall the top 12 generated $138.1m, down 23.4% on last weekend and down 34% on the comparable session in 2016.
This week's wide releases are: Pixar's Cars 3 through Buena Vista; Columbia Pictures' comedy Rough Night with Scarlett Johansson; and shark thriller 47 Meters Down from Entertainment Studios.
Estimated top 10 North America June 9-11, 2017
Film (Dist) / Est wkd gross / Est total to date
1 (1) Wonder Woman (Warner Bros) Warner Bros Pictures International $57.2m $205m
2 (-) The Mummy (Universal) Universal Pictures International $32.2m –
3 (2) Captain Underpants: The First Epic Movie (Fox) Fox International $12.3m $44.6m
4 (3) Pirates Of The Caribbean: Dead Men Tell No Tales (Buena Vista) Walt Disney Studios Motion Pictures International $10.7m $135.8m
5 (4) Guardians Of The Galaxy Vol. 2 (Buena Vista) Walt Disney Studios Motion Pictures International $6.2m $366.4m
6 (-) It Comes At Night (A24) A24 $6m –
7 (5) Baywatch (Paramount) Paramount Pictures International $4.6m $51.1m
8 (-) Meagan Leavey (Bleecker Street) Sierra/Affinity $3.8m –
9 (6) Alien: Covenant (Fox) Fox International $1.8m $71.2m
10 (7) Everything, Everything (Warner Bros) Warner Bros Pictures International $1.6m $31.7m