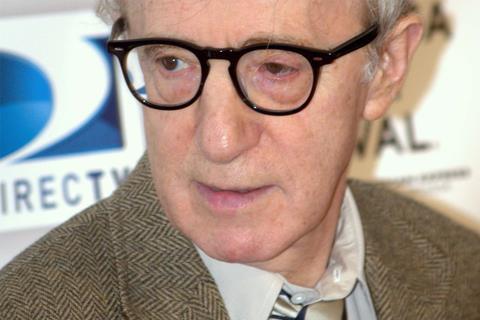 Woody Allen's new film will be a romantic comedy set against the backdrop of the San Sebastian Film Festival in Spain starring Christoph Waltz and Gina Gershon.
Barcelona-based MediaPro is producing the untitled film, presently going under the name WASP2019, with Allen and Letty Aronson's Gravier Productions. It which will shoot in Spain from July 10-August 23.
MediaPro previously co-produced Allen's Midnight In Paris, You Will Meet A Tall Dark Stranger, and Vicky Cristina Barcelona.
The casting on WASP2019 will be a surprise to many observers given the long-running controversy over Allen's alleged prior sexual misconduct, which he has consistently denied, and his recent fight with Amazon Studios.
Allen's last film A Rainy Day In New York remains undistributed in the US after a legal battle with Amazon Studios, which withdrew from a four-film deal after it claimed Allen made insensitive comments on the #MeToo movement.
The director sued Amazon Studios, and last month took back the US rights to the film. Its stars, Timothée Chalamet and Rebecca Hall, have distanced themselves from the director. However it is understood European distributors including Lucky Red in Italy plan to release it later this year.
WASP2019 will also star Spain's Elena Anaya and Sergi Lopez, with France's Louis Garrel, and the US' Wallace Shawn, who made his feature debut in Allen's Manhattan in 1979. The romantic comedy centres on a married American couple who go to the San Sebastian Film Festival, where they fall for a French director and a Spanish woman who lives in the city. This year's San Sebatsin Film Festival runs from September 20-28.
"We've been working with Woody Allen for 14 years," said MediaPro founding partner Jaume Roures. "His films, like every project the group produces, have a unique personality. This latest movie has all the ingredients to be right up there along with what we've become accustomed to from a director of Woody Allen's talent: an intelligent script and a first-rate international cast. In addition, we're delighted to be able to shoot the movie in a city such as San Sebastian, which has such strong ties to cinema."