Disney's 3D prequel records second consecutive week as number one and climbs to $11.6m (£7.7m) to date.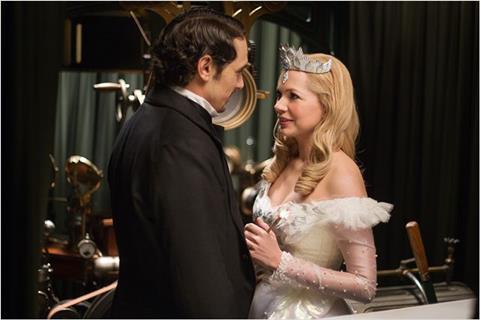 In an otherwise soft market, Oz the Great and Powerful recorded an excellent second weekend to retain top spot at the UK box office.
Disney's 3D prequel grossed an additional $3.9m (£2.6m), climbing to $11.62m (£7.68m) to date. The strong hold means it will surpass Mirror Mirror's UK tally of $11.64m (£7.69m) today, even if it will still finish behind Disney's Alice in Wonderland's sterling $64.4m (£42.5m) haul.
In terms of 2013 releases, Oz is currently the eighth biggest and should receive a boost from the upcoming Easter school holidays, even if it'll face stiff family competition from the likes of The Croods, which enjoyed healthy previews this weekend that will be added to its opening weekend.
Also for Disney, Wreck-It Ralph remained in this week's top five at fourth and is up to $33.3m (£22m) following a $644,000 (£425,844) weekend, while Monsters Inc 3D has grossed $3.6m (£2.4m) to date ahead of the 3D re-release of Finding Nemo on March 29.
Steven Soderbergh's alleged swansong Side Effects enjoyed a sturdy hold to take $1.1m (£759,363) from its 371 sites in its second weekend. eOne's thriller has now amassed $3.4m (£2.3m) after ten days in play.
Also for eOne, Parker is up to $1.9m (£1.2m) after a $466,000 (£308,335) weekend.
The week's highest new entry came in the form of Momentum's Welcome to the Punch, which debuted with $692,000 (£460,000) from its 370 sites to chart third. Director Eran Creevy's debut feature Shifty made $225,000 (£148,906) in its entire run, although did receive a much more limited release at 51 sites at its widest.
One of the new releases to suffer this weekend was Warner Bros' The Incredible Burt Wonderstone. The comedy could only manage a $449,000 (£296,812) debut from its 388 sites for a weak average of $1,158 (£765) per site.
Argo, meanwhile, added $148,000 (£97,750) and stands at $11.6m (£7.7m).
Universal's Mama crossed the £5m mark in its fourth week and is now up to $7.6m (£5.04m), while Les Misérables is closing in on the £40m barrier and stands at $60.2m (£39.9m).
Koch Media's second UK release Red Dawn managed a $386,000 (£255,399) debut from an ambitious 341 site release.
That result is down on Arbitrage's $609,000 (£402,873) opening, which Koch released on 214 sites. The thriller, starring Richard Gere, has now crossed the £1m mark in the UK following a $170,000 (£112,609) third weekend.
Tommy Wirkola's Hollywood debut Hansel & Gretel: Witch Hunters has now crossed the £3m mark after slicing its way to a further $334,000 (£220,812) to stand at $4.8m (£3.2m) through Paramount.
Dropping 64% in its second weekend, Paramount's The Guilt Trip is up to $1.2m (£814,123) and is almost guaranteed to become director Anne Fletcher's lowest UK grosser.
Lionsgate released Lee Daniels' much-talked about The Paperboy in 81 sites, resulting in a $214,000 (£141,811) debut at a solid average of $2,558 (£1,691). Daniels' only previous theatrical release in the UK was Precious, which opened on $395,000 (£260,921) from 47 sites before enjoying a sturdy run and grossing $3m (£2m).
This week sees saturation releases for Fox's The Croods, Universal's Identity Thief, Warner Bros' Jack the Giant Slayer and Lionsgate's Stolen (opens March 20). Soda's Compliance and Dogwoof's Reincarnated are among the films receiving a limited release.
For more of Screen's box office news, analysis and charts, visit our Box Office section by clicking the icon below.