EXCLUSIVE: Annapurna wins bidding war for comedy set to star Sacha Baron Cohen; CAA reps US rights.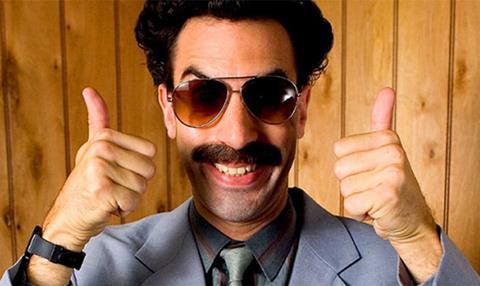 Megan Ellison's Annapurna has come out on top in a heated bidding war at the AFM for sales and English-language remake rights to hit R-rated Danish comedy Klown (2010), which has Borat star Sacha Baron Cohen attached in the lead role.
Annapurna's Megan Ellison will produce with Baron Cohen and Todd Schulman under their Four By Two production company; Scott Stuber is also a producer on the project.
Mikkel Norgaard's local box office smash (the film is the highest-grossing local film in Danish history), produced by Zentropa, follows a man who tries to prove his fatherhood potential to his pregnant girlfriend by 'kidnapping' her 12-year-old nephew and tags along to his best friend's debauched weekend canoe trip.
Baron Cohen has long been a fan of the original film and its writers and is expected to join Annapurna at their offices on Friday [Nov 4] at the AFM to discuss the project with select buyers.
Stephen Feder will oversee production for Annapurna, who are financing the film. Nicholas Hatton will oversee production for Four By Two Films. Chris Corabi negotiated the deal on behalf of Annapurna.
CAA packaged the project and will represent the film's domestic distribution rights. Annapurna International will handle international sales.
Klown won two awards at the Austin Fantastic Fest as well as a handful of prizes in Scandinavia. Drafthouse Films distributed the film in the US.
A sequel to the film, also directed by Norgaard, was released last year. In the second film, the two best friends head to Los Angeles.
Casper Christensen and Frank Hvam star in both movies. Supporting cast of the sequel included Nocturnal Animals star Isla Fisher (who is also Baron Cohen's wife) and Game Of Thrones star Nikolaj Coster-Waldau.
The project's arrival is good news for AFM buyers hungry for broad-appeal and star-driven product at a market lacking in obviously commerically-minded must-haves.