EXCLUSIVE: New producers are behind Julian Fellowes and Elizabeth McGovern reunion.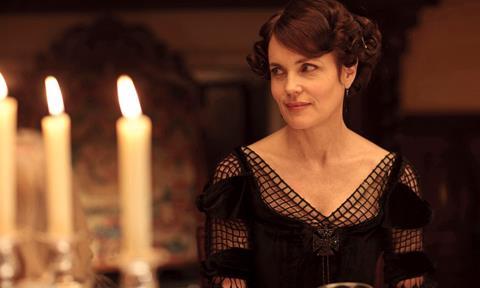 Arclight Films and PBS have announced that PBS label Masterpiece is producing its first feature in the shape of Chaperone, which will reunite Downton Abbey writer Julian Fellowes and star Elizabeth McGovern.
Based on Laura Moriarty's US novel the film will be directed by Michael Engler and will air on PBS stations nationwide after its initial theatrical run.
The Chaperone takes place against the backdrop of the early 1920's. A Kansas woman (McGovern) is forever changed when she chaperones a beautiful and talented 15-year-old dancer (Julia Goldani Telles, The Affair) named Louise Brooks to New York for the summer. One of them is eager to fulfill her destiny of dance and movie stardom; the other is on a mission to unearth the mysteries of her past.
Speaking at the PBS Annual Meeting in San Diego, Masterpiece executive producer Rebecca Eaton said: "It feels so right to reunite Julian Fellowes, Elizabeth McGovern, and director Michael Engler for our first feature film. Like Downton Abbey, The Chaperone is a beautifully told period drama set in a changing world, but now the setting is New York City."
Arclight Films is financing and is handling international sales.
PBS Distribution will distribute the film theatrically and to home entertainment markets in the US. UTA Independent Film Group handled North America rights.
The finance for The Chaperone is provided by Altus Media of which Paul Brett and John Fields are directors and for which Peter Nichols acts as a consultant. The Chaperone is a co-production of Masterpiece and Rose Pictures, in association with Anonymous Content.
Julian Fellowes said: "I am absolutely delighted to be working with Masterpiece and Elizabeth McGovern on The Chaperone, based on Laura Moriarty's novel, which is captivating and beguiling and resonant in so many ways."
"It is a thrill and an honor to be working with Masterpiece and Julian again on his beautiful adaptation of The Chaperone, and to be in the expert hands of director Michael Engler," said McGovern.
Executive producers are Rebecca Eaton, Simon Curtis, Eli Selden and Adam Shulman. The producers are Elizabeth McGovern, Rose Ganguzza, Kelly Carmichael, Victoria Hill and Gary Hamilton.
Julian Fellowes and Simon Curtis are represented by UTA. Elizabeth McGovern is represented by UTA and Anonymous Content. Michael Engler is represented by WME, Anonymous Content, and Bloom Hergott Diemer Rosenthal Laviolette Feldman Schenkman & Goodman LLP.
Arclight Films is presenting the film to distributors in Cannes this month.