EXCLUSIVE: Three teams selected for Lab from more than 100 applicants.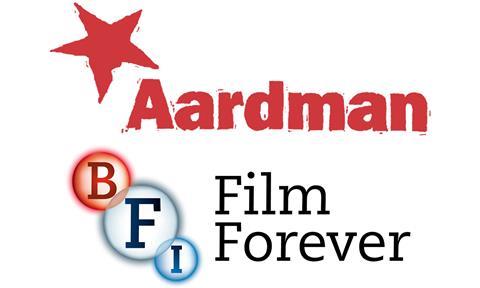 The BFI has partnered with Aardman Animations on a £1million Development Lab to help create new British animated feature films.
Two filmmaker duos and one individual filmmaker have been selected for the Lottery-funded Lab from more than 100 applicants, and are receiving funding and support over two years to develop their feature projects.
The teams have been working with Aardman's story artists, producers, marketers and directors, including Nick Park – who is currently working on new Aardman feature Early Man – since June 2015.
David Sproxton, co-founder of Aardman, explained to Screen how the filmmakers will work with the studio: "They'll develop [their projects] for two years, through outline, to treatment, to first draft script. Alongside that they'll ramp up the visual elements, working on character design, setting design and the story reeling process.
"At the end, their pitch package will consist of some fantastic artwork, a sizzle reel and the script," he said. "They will have real experience of trying to pitch it to Aardman. If Aardman don't pick it up then they will be able to take it to other studios and further develop it."
Peter Lord, creative director at Aardman, said: "We're not play acting with this. What we're doing is taking people who are already experienced and have proven talent and fast tracking them as far as we can to give them a new set of skills – which is developing a feature film."
The key for Aardman and the BFI is that the films are family-friendly and "economically and commercially viable", according to Sproxton. "That's the key for us, rather than being auteur, low-budget things that might have a bit of life in a festival but won't become commercial properties."
Ben Roberts, director of the BFI Film Fund, commented: "It's not a training scheme. We are doing it to develop projects that stand the best chance for being viable for production."
The Lab is set to run until late 2017.
The filmmakers
Producer Michelle Eastwood of Escape Films Ltd, working with writer Andrew Yerlett. Screen International Star of Tomorrow Eastwood produced BAFTA-nominated In Our Name and Sex & Drugs & Rock & Roll. Yerlett wrote the 2013 Brit List featured screenplay Brummer and The Berries.
Writer Daniel Brierley working with director Tom Jobbins. Brierley wrote American Nails, which won the BAFTA Rocliffe New Comedy Award. Credits also include Eat, Shoots, Leaves for the BBC starring Olivia Williams and the animated My Face In Space, nominated for Best British Short at Edinburgh (2012). Jobbins directed My Face In Space (see above) and Hiatus – We Can Be Ghosts, winner of the Best Animation Award at the UK Music Video Awards, 2013.
Writer/director/animator Dean Burke. Burke created the award-winning videogame Hector: Badge Of Carnage and directed the children's TV series Lifeboat Luke and Five Fable.
Working at Aardman
An important part of the Development Lab is exposure to Aardman's rigorous creative culture, according to Lord.
"They're not trying to produce and write 'Aardman' films as such, but we are critiquing them with all that we've learned from working in feature animation over the last 20 years.
"I'm impressed by their staying power. There's a lot of doubting and knocking back. They go away and work on an idea, they pitch it and we bat it back at them. We give them challenging notes and that keeps happening and that's how it's done."
Mike Cooper, the Lab's development executive, added: "It's hard work at the coal face, working on the story over and over again… I think it has been a shock to them."
British animation
Script development is generally a lengthy process. In the animation sphere it can be even longer.
"If you talk to anybody at big Hollywood studios, and indeed us, the whole process [of making an animated feature film] takes four to five years," said Cooper. "About three and a half years of that is getting the story right. It's impossible to get away from that time frame if you want a movie that's going to work."
Those challenges can be heightened in the UK.
"Most of our lower budget indigenous films tend to be underdeveloped," said Sproxton. "When we tell people you'll need two to three years to get a script right they're quite taken aback. The perception is that you can get a good script in a matter of months, but it doesn't work that way."
The long and expensive development process for animated features prevents many British filmmakers from working in the genre, noted Roberts.
"[The BFI] has been supporting animated feature projects for some time," he said. "But there was a sense – we had it here but it also came across quite loudly in the film policy review back in 2011 – that the animation sector, when it comes to features, is possibly under-powered.
"The costs of financing animation is typically higher than it would be a low-budget live-action film. You're entering a family market where the market share of studio output is in the majority. It's a heightened challenge."
"[The Development Lab] isn't the be all and end all of everything the BFI does for animation but is specifically shaped for family oriented material. All our funds have to be open to a broad range of filmmakers and that goes for animation too from traditional forms to experimental. Filmmakers may not be working to the Aardman approach but if you were going to look at the time and expertise needed to get that kind of material off the ground then Aardman's processes seem like a good way to go."
Details about the three Development Lab projects are being kept under wraps until next year, when the programme concludes.