Principal photography in Toronto and Hamilton is set to begin on October 20 on Brett and Jason Butler's latest film.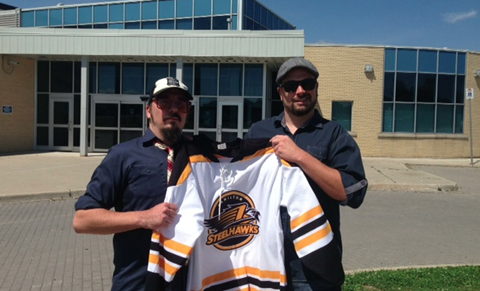 First Round Down centres on Tim Tucker, a former junior hockey star turned hitman who returns home after a decade to take care of his brother and move on from his criminal past.
Dylan Bruce from Orphan Black stars alongside Rachel Wilson, Rob Ramsay, John Kapelos, Peter MacNeill, Pedro Miguel Arce and father-son duo Joel Percy Hynes and Percy Hynes White.
The production will work alongside the Hamilton Steelhawks Hockey Club, who officially return to the ice after a 27-year absence.
Scenes for the film will be shot during the Steelhawks' home opener game at the Dave Andreychuk Mountain Arena in Hamilton on November 7.
Jason (pictured at right) and Brett Butler (pictured at left, pictured in front of the Hamilton Arena) of Substance Production previously directed the 2013 drama Mourning Has Broken. The brothers produce alongside Marina Cordoni.