EXCLUSIVE: Projects involving Damian Jones and Versailles breakout star George Blagden also pitched at Edinburgh's first works in progress event.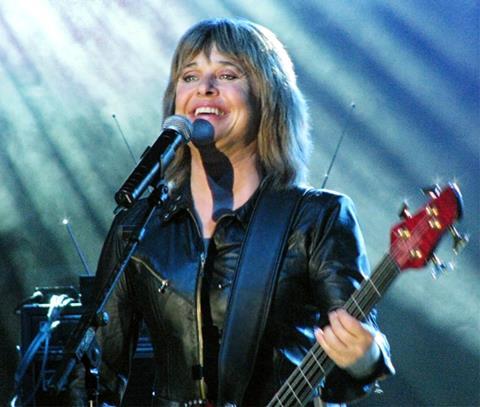 The Edinburgh International Film Festival (June 15-26) hosted its first works in progress event on Sunday, presenting seven British features still in production.
Films were looking for a combination of sales company representation, festival interest and final finance.
Between pitches were meetings and networking with industry representatives from Protagonist, Metrodome, Carnaby, Stray Dogs, Film4, Studiocanal, Lionsgate, Soda and Creative England.
Festival representatives attended from Tallinn Black Nights and International Film Festival Rotterdam.
Holly Daniel, Edinburgh's head of industry and talent development, told Screen: "It's something we've wanted to do for a while now. There's a gap across the UK for films looking for the final piece of the puzzle…Given all our work with emerging talent already, that put us in a good position to provide that platform."
"We are very pleased with the number of applications especially considering it was our first year and we only announced it in February," Daniel added.
"Given the quality and variety of the projects, and the feedback of the industry attending, it is something we thing can grow and help more filmmakers in the future."
Projects:
Suzi Q, dir. Liam Firmager, prods Tait Brady, Grant Keir
This feature explores the life and influence of rocker Suzi Quatro, who has sold 55m record worldwide. "She was one of the first female rockers and band leaders who broke into the music industry — that hadn't happened before for women," said producer Grant Keir. The documentary explores "the life and legacy for a woman we think is a trailblazer in life and music," he added.
Interviewees include Quatro and her family and the likes of Debbie Harry, Joan Jett, Alice Cooper, Kim Gordon, Tina Weymouth and KT Tunstall. "All of these people testify in how important Suzie's role was in breaking through for women at that time," Keir added.
The film will also explore the "sibling rivalries which still simmer with her sisters," whose band she left behind as she pursued a solo career as a teenager.
Suzi Q is still filming interviews, and will be delivered in 2017 with Quatro herself "very much behind the film" and willing to support the film with Q&As and, under the right circumstances, performances.
Screen Australia and Film Victoria are already signed on to back the film. Melbourne-based director Firmager is also finishing a documentary about Australian motorsport legend Peter Brock.
Contact: grant@factionnorth.com
How You Look At Me, wr/dir Gabriel Henrique Gonzalez, prod Pascal Le Comte

Gabriel Henrique Gonzalez, who has served as an assistant to Ron Howard and Debra Hayward, writes and directs his debut feature. A young man, Charlie (played by Versailles breakout star George Blagden), meets a young woman (Anna Astrom) at his family property in the French countryside, but it emerges that she might be connected to his fiancée (Ellie Turner).
Le Comte said the film is "a romantic drama in which three people find themselves in a triangle of relationships and seduction, and only one of them is aware of it and orchestrating it all…all three of them need to deal with their expectations of love and morality." The film will be readied for delivery this autumn.
Contact: plc@pascallecomte.film
Provenance, wr/dirs Ben Hecking, Christian McKay; prod Hecking
Hecking, an NFTS graduate who has served as cinematographer on films including Hinterland, makes his feature directorial debut with this dark love story that he co-directs with the film's star Christian McKay (Me And Orson Welles and Rush).
McKay plays a classical musician in the midst of a midlife crisis who flees his wife to go to the South of France to start a new life with his younger lover (Spain's Charlotte Vega in her English-language debut). But a mysterious young Englishman (Harry Macqueen) comes to town and shakes up his life.
Hecking said: "Through various twists and turns, he comes back having discovered a secret that will have disastrous consequences for everyone."
The film shot in the South of France and in the UK. Provenance is editing now for delivery in early September.
Contact: provenancethefilm@gmail.com
The Receptionist, wr/dir Jenny Lu, prods Peter J Kirby, Chin Chang
The story is about Tina, a Taiwanese graduate living in London, who takes a job at a receptionist at an illegal massage parlour. "It's about her journey going into this place, hating everyone there, but slowly she establishes friendships and finds herself," Lu said.
"Not many modern films explore East Asian immigrant women in the West," she added. "It's a film that will make you think."
Lu, a veteran of EIFF's Talent Lab, previously directed short The Man Who Walked On The Moon, and she won the 2014 Taiwan National Best Screenplay Award worth $150,000 for The Receptionist.
Damian Jones executive produces this UK-Taiwan co-production, which will be delivered by early autumn.
Contact: jennyluvideo@gmail.com
He Loves Me, wr/dir Konstantinos Menelaou, prod James Pearcey
The romantic drama follows two gay men in a disintegrating relationship who leave the big city to spend some time alone, together in nature. Pearcey said the film incorporates improvisation, documentary-style filmmaking and also epic set pieces.
The film is entirely in black-and-white with most of the audio a voiceover of one character looking back at this important time in his life. "It's a deeply personal film," Pearcey said. "It's more narrative than experimental."
Menelaou, who has a background in fashion, advertising and short filmmaking, spent two years developing his debut feature.
An artist couple who play the leads, Sanuye Shoteka and Hermes Pittakos, spent time with the director developing the characters.
"We have a forward-thinking attitude toward filmmaking [and the audience]. We have thought about sales and the marketplace since the beginning," Pearcey said. The film is at rough cut stage now for likely delivery by the end of 2016. The team is targeting a primarily LGBT audience.
Contact: james@neerdowellfilms.co.uk
The Gael King, wr/dir Philip Todd, prod Nathan Todd
Edinburgh-based Philip Todd said his low-budget film is "a Scottish fantasy action adventure set in 800AD." The film is about a warrior king and his brother who are forced into exile by a rival king. In a small village, they must battle an evil sorceress.
"Fantasy films are what excite me and inspire me," Todd said, adding that he will submit the film to genre film festivals and expects the film to appeal to fans of projects like Outlander.
The film is in the middle of post-production, and still will shoot a prologue section as well as continuing work on visual effects. This debut feature will be delivered by end of 2016.
Contact phil@fellowshipfilm.com
Elemental, dir Alan de Pellette, prod Helen Battersby
The story is about six teenagers who are staying in a country house for the weekend, partying and having a laugh with a Ouija board.The ghost of 8-year-old Sarah warns them about a crazy killer named Scanlon. "The story is also about friendship and loyalty," dePellette said, adding that it is a "psychological ghost story" rather than a slasher film.
De Pellette, who has worked in TV and made shorts, has a rough cut ready and is seeking finishing funds, and the film will be delivered later in 2016. "I think it appeals to a young audience and also a festival audience," he said.
Contact: alan@aficionadofilms.com