The company is partnering with All Nippon Entertainment Works (ANEW), Nippon Television and Chris and Paul Weitz's production company Depth Of Field.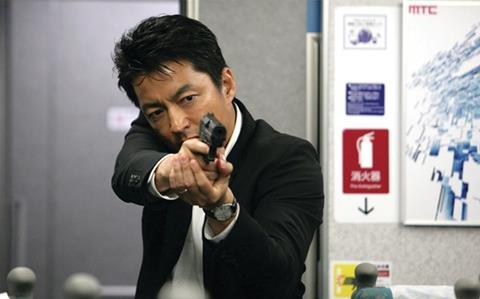 EuropaCorp holds worldwide rights and will join its partners to develop, finance and produce the English-language remake of Takashi Miike's Japanese thriller and 2013 Cannes competition selection.
Shield Of Straw centres on five police officers tasked with protecting a killer who has been targeted by his victim's wealthy grandfather.
Olympus Has Fallen and London Has Fallen screenwriters Creighton Rothenberger and Katrin Benedikt are writing the screenplay.
The producer of the original work, Nippon TV's Naoaki Kitazima, reprises his role alongside Depth Of Field's Chris Weitz, Andrew Miano and Dan Balgoyen, and ANEW CEO Sandy Climan and EuropaCorp.
"We are thrilled at the prospect of bringing the remake of the Japanese thriller Shield Of Straw to American audiences and the worldwide market," said EuropaCorp president Lisa Ellzey, who made Monday's announcement with Climan and ANEW senior vice-president of development and production Annmarie Bailey. "This film is right on brand for EuropaCorp and we look forward to working with the filmmakers on this project."
"I'm thrilled to learn that the Hollywood film production based on my debut novel Wara No Tate is proceeding smoothly," said the author of the original novel, Kazuhiro Kiuchi.
"With EuropaCorp's involvement in the project, it's exciting to consider the prospects of the film being set in the US where we'll see the characters speeding via train through cities across the country. As a fan of the original film, I look forward to seeing this new version."
ANEW projects include Tiger & Bunny being adapted by Ellen Shanman and produced with Imagine Entertainment, as well as 6000, produced in association with producer Mike Medavoy, and Soul Reviver, produced in association with Fields Corp. and Edward Zwick and Marshall Herskovitz of Bedford Falls Prods.
EuropaCorp's Luc Besson is in post-production on sci-fi Valerian And The City Of A Thousand Planets starring Dane DeHaan and Cara Delevingne.
The company releases John Madden's Miss Sloane starring awards contender Jessica Chastain as a brilliant Washington lobbyist on December 9.
Depth Of Field has a first-look deal with Amazon and recently wrapped production on Judy Greer's directorial debut A Happening Of Monumental Proportions based on a screenplay by Gary Lundy, as well as Columbus, written and directed by Kogonada.