EXCLUSIVE: First look at Sherlock and Pride star in AFM-bound thriller from The King's Speech producer.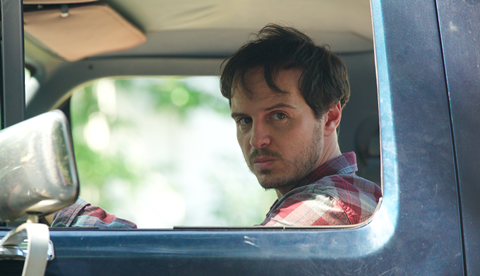 Screen can reveal the first look at AFM-bound crime-thriller Steel Country, starring Andrew Scott.
Scott, known for his villainous roles in Sherlock and Spectre, leads cast in the movie, which shot in the US last month.
Written by Brendan Higgins and directed by Simon Fellows (Malice In Wonderland), the film is produced by The King's Speech producer Gareth Ellis-Unwin. Editor is Oscar-winner Chris Dickens (Slumdog Millionaire), DoP is Michael Winterbottom regular Marcel Zyskind (The Killer Inside).
Bankside Films will be touting the project on promo at the AFM.
In Steel County, Scott plays a small town truck driver who turns detective when a young boy is found dead in a sleepy part of Western Pennsylvania. His investigations turn into an obsession to prove the boy has been murdered, leading to harrowing consequences.
The BAFTA-winner will co-star alongside Bronagh Waugh, who starred in TV crime series The Fall, and Denise Gough ('71), who recently won an Olivier Best Actress award for her performance in stage play People, Places And Things.
UK financier Motion Picture Capital is producing and fully financed Steel Country, joining Bedlam Films' Ellis-Unwin. Other producers include Leon Clarance (Sense8), Mark Williams (The Accountant) and Tai Duncan (The Air I Breathe).
Executive producers for Motion Picture Capital are Laure Vaysse and Jo Monk. Lee Vandermolen also serves as an exec with Vandermolen Films partnering on the early development of the project.
Scott recently starred alongside Rachel Weisz, Tom Wilkinson and Timothy Spall in Holocaust drama Denial and also played in kids movie Swallows And Amazons, alongside Kelly Macdonald, Rafe Spall and Jessica Hines.