EXCLUSIVE: Commissions explore motherhood, matriarchy, gender identity and the modern LGBTQ experience.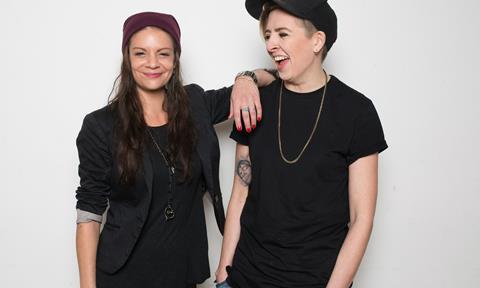 Two titles from London-based filmmakers have been commissioned for Microwave, the popular low budget feature film scheme from Film London, BFI and BBC Films.
The most recent selections are trans-love-story-come-road-movie Violets Are Blue and Mari, a family drama exploring a successful dancer's struggle to 'have it all'.
The films were selected from 12 projects, all of which went through a period of training, development and professional mentoring.
The two films will now receive £100,000 towards a capped £150k production budget, along with further development support.
Violets Are Blue, from writer/director Marley Morrison and producer Michelle Antoniades, focuses on Ash, a young trans man on a mission to find his birth parents who meets the vibrant Rose along the way. "
The story was born of my own battles with gender identity, a need to discover the truth within myself and fully embrace myself as a non-binary individual," explained Marley.
"I wanted to see my community reflected on screen, which is something I never saw growing up. With many films and TV shows the queer experience is filtered through a heterosexual gaze and is articulated in heterosexual terms. It's important that we make films that are truly reflective of our communities, and that LGBTQ characters are as complex and interesting as heterosexual characters."
Mari, from writer-director Georgia Parris and producer Emma Duffy, will bring original choreography to the big screen as it follows contemporary dancer Charlotte on a personal journey that goes from her grandmother's deathbed to the prospect of motherhood.
"I spent a weekend with my family around my grandmother's hospital bed," she said.
"Being with her when she died had a big effect on me as the notion of my own mortality crept in and led me to write Mari to understand my own feelings better."
"Wim Wenders' documentary Pina changed everything for me," the dancer added. "I saw the potential of contemporary dance to explore narrative – it has the ability to bypass spoken word and allows you to physicalize complex human emotions in a very dynamic way."
Upcoming Microwave titles from London-based filmmakers includes Zero (formerly Kill Her Witch), The Visitor, Sick(er) and Looted, all of which are scheduled to go into production this year.
Eight of the 14 filmmakers involved in these projects are women and one identifies as non-binary.
—Adrian Wootton, chief executive of Film London and the British Film Commission, said: "The latest Microwave selections combine bold ideas, complex characters and relatable stories that cast an unblinking eye on the modern human experience.
"These are films that come from very personal, individual places but immerse us in timely, universal themes. In short, they're exactly the kind of features we should be backing from the kind of filmmakers we want to support: those with distinctive visions and stories that need to be told."