Fox International Productions (FIP) has signed an exclusive first-look deal for Russian-language films with Paul Heth and Michael Schlicht.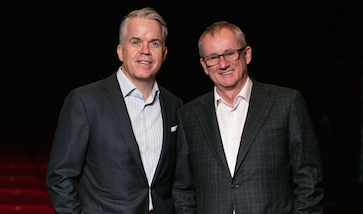 FIP president Tomas Jegeus and Twentieth Century Fox EMEA evp Paul Higginson made the announcement on Wednesday with Heth and Schlicht.
The pact covers both co-productions and acquisitions of Russian-language films and is supplemental to Fox's existing co-production and acquisitions relationships and activities in Russia and CIS.
Heth and Schlicht are longtime producing partners whose credits include Stalingrad – the highest grossing film in Russian box office history – as well as the Very Best Movie comedy franchise, Vysotsky: Thank God I Am Alive and Battalion.
The pair will work closely with 20th Century Fox International's managing director for Russia, Vadim Smirnov.
Heth is a Moscow-based media entrepreneur and owner and CEO of the Karo cinema chain who is regarded as an active player in the revival of Russia's exhibition sector.
Schlicht is a film executive who has overseen the release of five of the top 10 local-language films in Russia including Irony Of Fate 2 and the Night Watch franchise.
"We are delighted to again be working with Paul and Michael as we expand our production activities in Russia and CIS and look to international distribution opportunities with this new deal," said Jegeus. "Michael and Paul are proven film entrepreneurs who also are forward-thinking, global-minded businessmen."
Heth and Schlicht added: "We are really excited, and look forward to working with Tomas Jegeus, Paul Higginson, Vadim Smirnov and the whole Fox team as we continue developing and investing in the vision of our Russian filmmaking partners, who have, to date, created some of the highest quality, most commercially successful films in Russian cinema history."
Russian box office reached $1.24bn in 2014 and locally produced films accounted for $215m.