EXCLUSIVE: Stephen Graham, Dave Johns, Jill Halfpenny star in wrestling comedy; first look.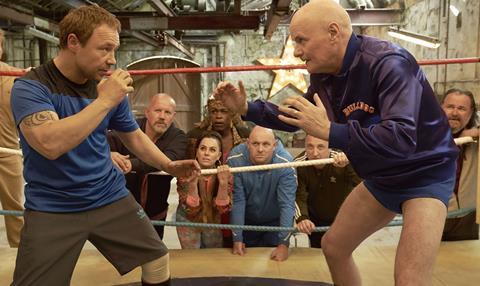 Stephen Graham (Boardwalk Empire), Dave Johns (I, Daniel Blake) and Jill Halfpenny (Humans) have been set for comedy Walk Like A Panther, which is now underway in the Yorkshire, England for Fox International Productions.
Screen can reveal the first look at the project, on which British director Dan Cadan makes his feature debut from his own original screenplay.
The ensemble British cast also includes Sue Johnston (Downton Abbey), Lindsey Coulson (EastEnders), Julian Sands (The Girl With The Dragon Tattoo), Jason Flemyng (Snatch), Stephen Tompkinson (Wild At Heart), Michael Socha (This Is England) and hip hop artist/poet Scroobius Pip (Taboo).
The story revolves around a group of '80s wrestlers who are forced to don the lycra one last time when their beloved local pub is threatened by closure.
Led by father-son duo, Mark (Graham) and Trevor Bolton (Johns), the unlikely bunch of underdog heroes set out to save their community, rekindling old friendships and family ties along the way.
The below-the-line crew includes Guy Chambers, Robbie Williams' song-writing partner, who will work on the soundtrack, cinematographer Niels Reedtz Johansen (The Hurt Locker, second unit), production designer Russell De Rozario (Kick-Ass), editor Mike Ellis (Brassed Off) and hair and make-up designer Kevin Alexander (Game Of Thrones).
Director Cadan said: "Directing my first feature at Fox is quite the honour. This is a timely, relevant story with a big nostalgic heart; that never loses sight of the modern world.
"The incredible cast, supported by our outstanding crew, are bringing to life a memorable posse of heroic, lycra-clad, underdogs. This is not a film about wrestling as a sport; it's more a film about wrestling with life - which we all do, one day at a time. It's a comedic exploration into the importance of community, family and true, enduring friendships."
Producer Dean O'Toole added: "It's been fantastic to kick off the shoot. The support both Dan and I have received from Tomas Jegeus and everyone at Fox has been incredible."
The project was initially envisaged as a TV sitcom in 2011 but has been reimagined as a feature through Fox's local-language moviemaking arm Fox International Productions, which is making a rare foray into UK-based production.