Netflix and DreamWorks have 16 TV series in development, says DreamWorks CEO.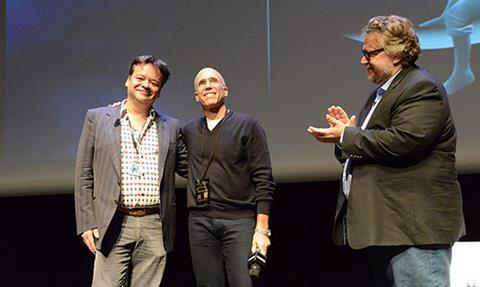 Director Guillermo Del Toro was joined by DreamWorks Animation CEO Jeffrey Katzenberg during an Annecy Film Festival masterclass this week in which the two men revealed some insider titbits on projects they have worked on and more general thoughts on animation.
"In my early days at DreamWorks, Jeffrey said I increased the murder rate at the company by 100%," Pan's Labyrinth director Del Toro joked.
The colourful Mexican director has been a consultant and executive producer on a handful of DreamWorks titles, and the audience heard how he was responsible for significant edits to 2010 feature Megamind and for some of the more exuberant action scenes in Kung Fu Panda 2.
Del Toro and Katzenberg have most recently collaborated on animated series Trollhunters, of which they showed several clips.
The recent Netflix acquisition about a school kid who takes possession of a magical amulet that transforms him into a troll hunter will feature the voices of Ron Perlman and Kelsey Grammar among others.
"The way I pitched it to Jeffrey was 'saving the world after gym class," Del Toro said of the series.
The Mexican was unapologetic about the darkness and violence he introduces into films, including his animated work.
"Animation is a medium, not a genre, but in America, animation is for fucking kids - and it's not. Animation is a thoroughly artistic and adult form of art," Del Toro declared to rapturous applause.
[In the same vein during a press conference yesterday the director said of his long-gestating stop motion Pinocchio update: "I am not making a movie for kids. Yeah, the book was for kids but it was really dark and had its own fairytale logic."]
Both Del Toro and Katzenberg were fulsome in their praise for their partners at Netflix.
"We have 16 TV series with them," Katzenberg said. "They have been beyond a spectacular partner. They have believed in this series [Trollhunters] not just as an animation show but as a premier piece of entertainment and storytelling…they're not thinking about it as a kids' animated show."
At the end of the masterclass, a startled Katzenberg was presented with the Annecy Festival's first ever 'Golden Accreditation', the festival's equivalent of the golden ticket in Charlie And The Chocolate Factory.
"Not only has Jeffrey been a long-time collaborator and supporter of all of us here in Annecy, his track-record in animation is nothing short of legendary," said Annecy artistic director Marcel Jean.
"From reviving the industry with such critically acclaimed films like Beauty And The Beast and The Lion King, to launching DreamWorks Animation and giving us such memorable characters in films like Shrek, Madagascar, Kung Fu Panda, and How To Train Your Dragon, there is no one more deserving of a lifetime pass to our festival."