EXCLUSIVE: The LA-based graphic novel publisher has made its latest move in an aggressive push into film and TV, teaming on the eve of Comic-Con with multiple Hugo and Nebula Award-winning Robert Silverberg.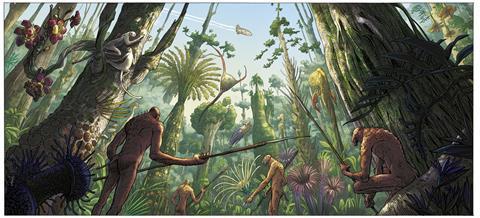 The pact will see Humanoids adapt selected novels from the Silverberg oeuvre into comic books and live action content and follows separate deals announced earlier this year with Paris-based Full House and China's Jetavana.
The first property to move forward under the Silverberg deal is Downward To The Earth (artwork pictured), which Humanoids will publish as a graphic novel in 2016 from writer Philippe Thirault (Miss: Better Live Through Crime) and artist Laura Zuccheri (The Swords Of Glass).
The company will attend Comic-Con in San Diego and is actively developing a live content version of the 1970 sci-fi novel, styled by fans as a transcendent tale about a former colonial officer who believes the native species from an off-world settlement may hold the key to his personal redemption.
Vince Gerardis, who has served as a co-executive producer on Game Of Thrones, will team up with Humanoids CEO Fabrice Giger and his producing partner Pierre Spengler on the Silverberg adaptations.
"Robert Silverberg's contributions to science fiction in the last decades is unmatched and has inspired generations of writers, artists and filmmakers," said Giger.
"With creations such as Downward To The Earth's Fusion Torch, which anticipated the lightsabers that appeared in Star Wars a few years later, and award-winning novel A Time Of Changes, Silverberg is definitely one of the writers Humanoids has long dreamed to work with."
Gerardis added: "I've been admiring the quality of Humanoids graphic novels for decades. Always employing the highest calibre artists, they've become a formidable global comics and IP brand. I'm happy to join with them in developing my first few graphic novels, and to guide their produced content to screens and derivative media."
The production arm of Humanoids recently announced a multi-film deal with Chinese production company Jetavana.
The first in the slate is a space opera based on Jerrold Brown, Paul Alexander, Butch Guice and Roman Surzhenko's graphic novel Metal.
Meanwhile the deal with Full House will bring to fruition an adaptation of Alejandro Jodorosky and Francois Boucq's cult Western comic book series Bouncer. Floria Sigismondi of The Runaways fame will direct.
Quebec-based RKSS Collective, the filmmakers behind Sundance and SXSW hit Turbo Kid, will adapt black comedy The Zombies That Ate The World from the comic book series by Jerry Frissen, Guy Davis and Jorge Miguel.
The final title in the Full House deal is Legion, a WWII vampire action thriller written by Richard Stanley that Enrique Lopez Lavigne of Spanish powerhouse Apaches will co-produce.
The Humanoids slate includes Sebastian X, which Voltage head Nicolas Chartier is producing alongside Valhalla's Gale Anne Hurd. Bill Marsilii is finishing the screenplay now and Martin Campbell is attached to direct.