Finnish director Timo Vuorensola has taken to Indiegogo to fund an additional scene in forthcoming sequel Iron Sky The Coming Race.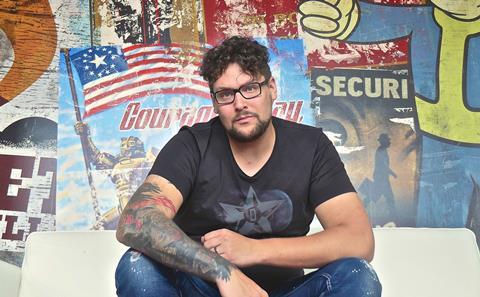 The film's team reveals that in this unique scene, "the reptilian shape-shifter Margaret Thatcher falls from her dinosaur-drawn chariot and is crushed to death when a sun rolls over her."
The scene was shot during production but the effects budget was used to work on other scenes. But now Vuorensola hopes his audience can help via crowdfunding.
"We have hundreds of shots with big effects in the film and we have to think very hard where to spend the budget in order to make the best possible film. Sometimes that means cutting scenes that are good, but possibly not as essential to the plot," said Vuorensola.
"Some cuts however hurt more than others and I did not want to leave poor Margaret on the cutting room floor. Because the budget is locked the only way to do it is to look for money elsewhere – so I've decided to ask our fans for help."
The campaign launched on Wednesday and has already reached its original goal of $25,000 by offering some fans the chance to buy props and costumes from the film.
The campaign – available here – will continue until November 11 to raise more funds that will be used on further effects work.
Iron Sky The Coming Race, which has a budget of 17m Euros, is being readied for an autumn 2017 delivery.
The cast includes Lara Rossi, Udo Kier and Tom Green. Tero Kaukomaa produces for Iron Sky Universe, and co-producers are 27 Films and Potemkino.