EXCLUSIVE: Pedro and Agustin Almodovar exit movie set to shoot in August.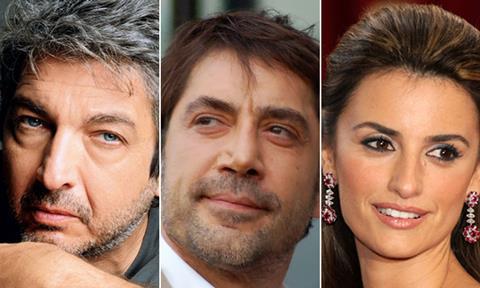 Two-time Oscar winner and festival favourite Asghar Farhadi (The Salesman) was due to fly into Cannes last night to take part in tonight's 70th edition opening ceremony as a special guest and talk to buyers about his upcoming, currently untitled Spanish-language thriller.
Argentine superstar Ricardo Darin has joined Penelope Cruz and Javier Bardem in the hotly anticipated project, which is due to shoot in Madrid from mid-August.
Darin is set to play Cruz's husband from Buenos Aires in the family drama and psychological thriller which will explore how the kidnapping of a young girl leads to the unraveling of family secrets.
However, Pedro and Agustin Almodovar's Spanish outfit El Deseo are no longer on board to produce the movie.
The $12-13m project is now being made as a French-Spanish-Italian co-production with French producer Alexandre Mallet-Guy (producer of Farhadi's The Past and The Salesman) of Memento Films joined by Che producer Álvaro Longoria of Spanish stalwarts Morena Films and Andrea Occhipinti of Italian indie giant Lucky Red, which handled the release of The Salesman in Italy.
It will also be made in co-production with France 3 Cinema and supported by Canal Plus and France Télévision.
The Iranian auteur has written the script in Farsi and it has been translated into Spanish.
Memento Films International is handling sales and will launch the film in earnest in Cannes with the team aiming for it to be ready in time for Cannes 2018.
Farhadi has assembled an impressive crew for what is expected to be his most commercial film to date, including composer Alberto Iglesias (The Constant Gardener), DoP Jose Luis Alcaine (Talk To Her), production designer Clara Notari (Wild Tales) and costume designer Sonia Grande (The Lost City Of Z).
Producer Mallet-Guy told Screen: "After The Past and The Salesman, this film is my third collaboration as producer with Asghar Farhadi and I'm still amazed by the intensity and the subtlety of his work. We'got a thrilling story, great locations and a five stars cast with Javier Bardem, Penelope Cruz and Ricardo Darin.
"It's Asghar Farhadi's most commercial film to date and I'm looking forward to bring it to the largest audience possible. This ambitious project is also a great opportunity to team up with Alvaro Longoria and all the crew of Morena Film our Spanish co-producer. I also would like to thank our Italian co-producer Andrea Occhipinti of Lucky Red who did an amazing work on the release of The Salesman in Italy."
Memento, which has distributed six of Farhadi's seven films in France, is co-producer and French distributor of Robin Campillo's 120 Beats Per Minute and seller of Robert Pattinson heist-thriller Good Time, both of which play in Cannes competition.
Also in production for the French outfit are Nuri Bilge Ceylan's next film The Wild Pear Tree, Ixcanul director Jayro Bustamante's Tremblores and Xavier Giannoli's The Apparition, all three of which Memento will distribute in France.