Market sets scene for Berlin and Cannes but few deals sealed.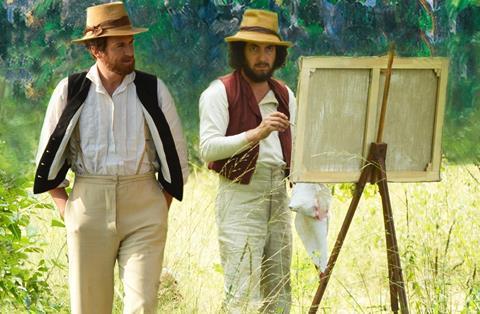 Sellers reported a slow start to the year at UniFrance's annual Rendez-vous with French Cinema in Paris over the weekend (Dec 14-18) in terms of sealed deals but said the event had set the stage for sales at Berlin and even Cannes.
"Buyers are getting pickier. They want titles they're 100% sure will work in their territories. You get the sense things are tougher for them and that they're not prepared to take risks. They're looking for the next La Famille Bélier or Serial (Bad) Weddings," commented Olivier Albou of Other Angle Pictures, referring to two of France's top comedy exports of the last 18 months.
Albou said there was strong interest for Other Angle titles The Roommates Party (Le Grand Partage), Full Speed (A Fond), by Babysitting director Nicolas Benamou, and A Mighty Team (La Dream Team), which opened the event on Thursday evening.
"We've got a number of deals underway which we hope to conclude by Berlin but sometimes titles launched at the Rendez-vous eventually sell during Cannes. That's the way of the market these days," he added.
Indie Sales chief Nicolas Eschbach reported ongoing offers for children's video game adaptation animation Dofus - Book II Julith, which market premiered to buyers and a handful of younger guests; thriller Fast Convoy, as well as renewed buzz for Joachim Lafosse's The White Knights which world premiered at Toronto
"We're not sure what triggered it but there was a sudden revival in interest. We had buyers queuing up to discuss the film," commented Eschbach on The White Nights which market screened at the Rendez-vous.
Other titles creating buzz included Studiocanal's Kalinka by Vincent Garenq, starring Daniel Auteuil as real-life French accountant André Bamberski who spent 30-years battling for a conviction of the man who raped and killed his teenager daughter.
Gaumont confirmed growing buzz for Laurent Tirard's upcoming comedy Up For Love, starring Jean Dujardin as a short man in love with a tall woman played by Virginie Efira, and Omar Sy-starrer Chocolat ahead of market premiere screenings at the EFM.
Pathé International's head of sales Muriel Sauzay reported strong interest in writer-director Daniele Thompson's Cézanne Et Moi, starring Guillaume Gallienne as the artist opposite Guillaume Canet as his childhood friend Emile Zola.
"I think this is the film which will really see Daniele crossover internationally," commented Sauzay.
The sales company laid on private tours and a champagne reception at the Musée d'Orsay on Friday evening for buyers, inspired by Thompson's screenplay and exploring Cezanne's life and relationship with Zola through the artist's works such as Achille Emperaire, La Maison Du Pendu, Auvers-sur-Oise and Baigneurs as well as Edouard Manet's portrait of the writer.
In a similar event, Wild Bunch took buyers on a tour of the recently refurbished Rodin Museum to launch sales on a new biopic about legendary sculptor Auguste Rodin starring Vincent Lindon as the artist.
Box office figures, genre study
Other events taking place during the Rendez-vous included UniFrance's presentation of its annual report of the international box office for French cinema which showed that its films drew 106m spectators internationally for the third best year since records began two decades ago.
In a sign of the importance France places on its cultural industries - with cinema a key pole of the sector, the presentation took place at the Ministry of Foreign Affairs and International Development for the first time in the presence of current minister Laurent Fabius.
At the same event, Aton Soumache and Dimitri Rassam were awarded UniFrance's French Cinema Award in recognition of the international success of Mark Osbourne's The Little Prince, which they produced under their joint Paris-based company On Entertainment.
UniFrance also unveiled a special study on which types of French film work best internationally which revealed that comedies fare best.
The Rendez-vous also hosted the launch of UniFrance's online initiative MyFrenchFilmFestival, presided over by Nicholas Winding Refn this year, at a special ceremony on the Eiffel Tower.
Press junket
Alongside the market, UniFrance's annual international press junket, for films which are due to hit global screens in the coming months, packed out the corridors and suites on the other side of the first floor of the Intercontinental Hotel which hosts the Rendez-vous.
Talent and directors talking to the some one hundred journalists flown in for the event included Isabelle Huppert, Fabrice Luchini, Vincent Lindon, Guillaume Gallienne, Adele Exarchopoulos, Claude Brasseur, Catherine Frot and Gaspar Noé and Eva Husson.
Veteran actor Brasseur, who turns 80-years-old this year, talked about his latest role in Ivan Calbérac's feel-good inter-generational comedy The Student And Mr Henri (L'Etudiante Et Monsieur Henri) opposite up-and-coming Swiss actress Noémie Schmidt, who plays Louis XIV's mistress Henriette d'Angleterre in Canal Plus' big budget TV series Versailles.
Brasseur said working with Schmidt – who makes her feature debut in the film —reminded him of his early days in cinema in the 1950s when he appeared alongside Jean Gabin in Rue De Paris.
"I took care to be supportive of her on set. One of my very first films was with Jean Gabin. I was just 22-years-old and petrified but Monsieur Gabin was always extremely kind and I tried to be the same with Noémie," he said.
The film, based on director and playwright Calbérac's hit play of the same name, comes out in Germany this spring and will also get a limited release through Studiocanal in the UK.