Ken Kao and Dan Kao will partner with Addictive Pictures to produce under their first-look deal.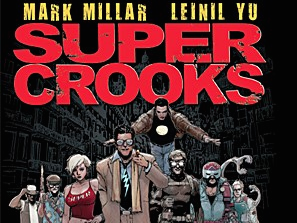 Waypoint Entertainment has acquired rights to American Jesus and Supercrooks from Mark Millar, the comic book writer behind original properties Wanted, Kingsman: The Secret Service, and Kick-Ass.
The Kaos will serve as producers alongside Addictive's Russell Ackerman and John Schoenfelder.
American Jesus was drawn by artist Peter Gross and centres on a 12-year-old boy who realises he is the second coming of Jesus Christ sent to save earth
Leinil Francis Yu illustrated Supercrooks, a comic heist story about eight super-villains who attempt to rob the world's most notorious crime boss.
Millar has worked on comic books including Captain America: Civil War, and The Ultimates.
"I only come to LA one week a year and do all my meetings in the pub during those seven days every September," said Millar.

"On my most recent trip I met these guys and was wowed by their plans and the scale they're working on. Leinil and I couldn't be more delighted to have Supercrooks up and running with such talented people.
"Peter Gross and I have held American Jesus back for a decade until the right team came along. This really is that team. The level of talent we're talking about behind the camera has us all ridiculously excited. Fans of the books are in for an absolute treat."
Kao's feature slate includes Scott Cooper's Hostiles starring Christian Bale and Rosamund Pike and Martin Zandvliet's The Outsider starring Jared Leto.
Waypoint is in post on Cannes selection The Nice Guys, The Sea Of Trees, and Terrence Malick's Weightless.
Addictive is preparing Jeremy Saulnier's Hold The Dark for A24, and recently closed a deal for Deeper written by Max Landis to star Bradley Cooper at MGM.