Dir/scr: John Boorman. UK-Ireland-France-Romania. 2014. 115mins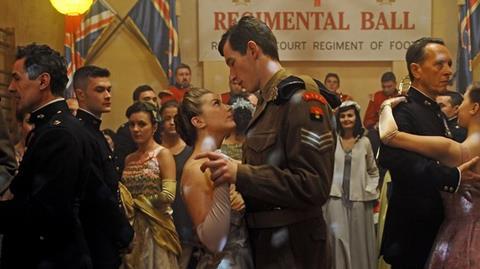 John Boorman's 1987 film Hope And Glory is a treasured memory. It views the heightened everyday lives led in London during the Second World War through the eyes of a child and is drawn from Boorman's own experiences. The director has finally, at the age of 81, revisited his own life story in Queen And Country, set in Britain during the frill-free post-war period.
Boorman takes a gentle, episodic approach to Queen And Country, which is structured as series of vignettes within a loose framework, a snapshot of a now-distant time.
Starting with Hope And Glory's famous "Thank you Adolf!" clip, Queen And Country moves nine years on in time to 1952, when Boorman was 18 years-old and called up for two years of military service. He - or "Bill Rohan" (newcomer Callum Turner) - is still living on the idyllic island in the Thames where his family retreated after their home was bombed in the War. His grandparents are long gone, and Bill's mother (Sinead Cusack, in the role first played by Sarah Miles) lives peacefully with his father (David Hayman, the only actor to appear in both films).
Boorman takes a gentle, episodic approach to Queen And Country, which is structured as series of vignettes within a loose framework, a snapshot of a now-distant time. Bill's National Service call-up sees him enter a land of tin huts and tin hats, catapaulted into an absurd Dad's Army of soldiers with an uncertain remit in what is rapidly becoming a post-Colonial world.
David Thewlis moves into centre-frame as the martinet Sergeant Major Bradley, while Major Cross (Richard E. Grant) commands the division, and Private Redmond (Pat Shortt) has sabotage on his mind. Bill, meanwhile, quickly makes friends with troublemaker and fellow officer Percy (Caleb Landry Jones) and the pair go about their youthful business, mostly trying to have sex with earthy nurse Sophie (Aimee-Ffion Edwards), while Bill falls passionately in love with the appropriately-named Ophelia (Tamsin Egerton).
Key incidents include Bill inadvertently "seducing a soldier from the course of his duty", the theft of the regimental clock, and the return from America of his vivacious older sister Dawn (Vanessa Kirby, excellent). The pace is leisurely and the comedy gentle, making it of potential appeal to an older UK audience.
Boorman struggled to finance Queen And Country, and much of the film was shot in Romania. Certainly, and sadly, the film doesn't look anywhere near as opulent as Hope And Glory. Apart from the tin huts of the regiment, the only real exteriors are the family home on the Thames.
With a sprawling cast of characters ranging from the young unknowns to more established actors such as Thewlis and Grant, performances can vary. Newcomer Turner is fine, mostly called upon to be solid in centre stage as Bill, and Vanessa Kirby is a warm, appealing presence even as character's relationship with Bill seems troublingly close. Both Tamsin Egerton and Caleb Landry Jones (in particular) have difficulty finding the right register for their parts, however. Young Aimee-Ffion Edwards is warm in her small role.
Boorman has apparently decided that Queen And Country will be his last film – although nobody would hold him to that. If so, Queen And Country is a fitting, intimate curtain call on a long and a hugely dynamic and influential film career.
Production company: Merlin Films
International sales: Le Pacte, www.le-pacte.com
Producers: John Boorman, Kieran Corrigan
Co-producers: Anne-Laure Labadie, Jean Labadie, Vlad Paunescu
Cinematography: Seamus Deasy
Editor: Ron Davis
Music: Stephen McKeon
Main cast: Callum Turner, Caleb Landry Jones, Pat Shortt, David Thewlis, Richard E Grant, Tamsin Egerton, Vanessa Kirby, Aimee-Fion Edwards, Brian F. O'Byrne, Sinead Cusack, David Hayman