New cinema has room to welcome 49 patients even in beds and wheelchairs.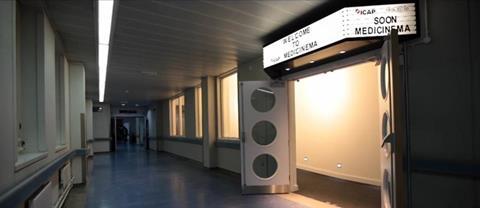 MediCinema, the charity dedicated to bringing films to hospital patients across the UK, and RealD, have collaborated on a new premium cinema at London's Guy's Hospital. The new cinema was opened last night at a ceremony.
The cinema installation is sonspored by ICAP.
The Guy's cinema offers 37 seats and room for 5 hospital beds and 7 wheelchairs.
Stephen Moore, CEO of MediCinema, said of the opening, "It is our continued priority to ensure that patients across the UK are able to enjoy moments of respite from their everyday concerns, in a comfortable and accessible setting.
"Guy's Hospital, as one of London's busiest hospitals, has always been a priority for us and we are thrilled to be opening this facility in partnership with our major donor ICAP and with the support of RealD. Together, we have had the ability to leverage this project and make dreams a reality in creating a fantastic state-of-the-art facility for patients to enjoy."
Robert Mayson, md of RealD Europe said, "We are both excited and humbled to be a part of this new cinema facility at Guy's Hospital alongside MediCinema and ICAP. We all share the belief that everyone should have the ability to experience the joy, escapism and healing power of movies, and through the addition of RealD's immersive 3D technology we hope patients will find comfort and delight away from their regular hospital life."
Michael Spencer, CEO of ICAP, added: "I am absolutely delighted that proceeds from our annual Charity Day are enabling the opening of the ICAP MediCinema facility at Guy's Hospital. It will give patients and their loved ones the chance to have a wonderful movie-going experience to provide respite from their illness and troubles.
"On behalf of our employees at ICAP I'd like to congratulate MediCinema, RealD and Guy's Hospital on this terrific project."